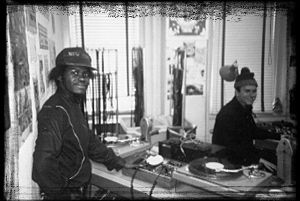 You missed out on the uptown party rockin' that planted hip hop's earliest seeds? Well Mr. or Ms. Been There/Done That, if you're not at least in your 40s and from the Bronx, you are forgiven. But now you won't have to lie about it anymore – because this summer you have an opportunity to make your lifelong old-school hip hop dream a reality with the Parks' department/Tools of War-curated free park jams.
While the series has done a fine job of including DJs and MCs of all ages, the rare highlight here are hip-hop's first pioneers – the ones that stretch back long before the "Planet Rock"s and "The Message"s that catapulted the genre into the mainstream. And practically every important name from the time the genre took its baby steps will be present – uniting the former hip hop rivals the Bronx, Harlem, and Queens in the process.
Tonight kicks the series off right with a comparatively younger hip hop celebrity, X-ecutioners' virtuosic turntablist Rob Swift. But look who's following him…
On the mic, none other than GrandMaster Caz, Mr. Casanova Fly himself. Who? If you think you don't know 'im, think again. At it since 1974, Caz wasn't only an early DJ, but rose to fame as both the Adam and the Shakespeare of early MCs. The man's lyrics got bit on… hard… and regularly, by almost every early rapper – most notably exemplified by the fact that Sugar Hill Gang, in the genre's first hit single, "Rapper's Delight" (1979), tore off a good chunk of the Fly's trademark rhymes. But that's just a lone example, there isn't one rapper to this day that doesn't at least have a little of Caz's DNA floating around. While Caz achieved some success with the Cold Crush Brothers in the early 1980s, he still deserves his due not only as an innovator, but as one of the all-time great stylists.
And, as this is after all a "turtablist session," Grand Wizard Theodore himself will be on hand to work out every variation humanly possible on a pair of shiny black rotating petroleum pies. And, if you don't know the Wiz, he's doesn't only cut lightening-fast supreme, and he certainly laid down some of the fatter grooves early on (check out Wild Style – where he appears behind the wheels during the unreal MC battle between Busy Bee and Lil Rodney Cee at the Dixie or on the movie's fantastic theme, "Military Cut"), but, don't let the parenthesis throw you off, this'll knock you out if you don't know, Grand Wizard Theodore, for all intensive purposes, invented scratching as we know it today.
And this jam is only the first of many. You'll see these faces and many more in what promises to be the ultimate old school summer you never had….
yes yes y'all… to the beat y'all…
follow links below for more info….
Thursday, June 7, 2007
Turntablist Sessions: Rob Swift, GrandMaster Caz, GrandWizzard Theodore – Queensbridge Park
Thursday, June 14, 2007
Turntablist Sessions: DJ Scratch, Rockin' Rob, DJ Flawless, DJ Slyce, "Johnny Juice" Rosado – Queensbridge Park
Thursday, June 21, 2007
Turntablist Sessions: Grand Master Roc Raida, Cut Master DC, DJ Supreme, Mysterio, Egg Foo Young, DJ Fat Fingaz – Queensbridge Park
Thursday, June 28, 2007
Davy DMX, DJ Steve Dee, DJ Esquire, DJ Boogie Blind, DJ A Plus – Queensbridge Park
Tuesday, July 31, 2007
DJ Charlie Chase, Rockin Rob, DJ Disco Wiz, King Uprock – Jackie Robinson Park

Tuesday, August 7, 2007
GrandMaster Caz, Dan the Beat Mann, PopMaster Fabel, King Uprock – Marcus Garvey Memorial Park Amphitheater

Tuesday, August 14, 2007
GrandWizzard Theodore, DJ Steve Dee, PopMaster Fabel, King Uprock – Marcus Garvey Memorial Park Amphitheater
Tuesday, August 21, 2007
Kool DJ Red Alert, The Original Jazzy Jay, PopMaster Fabel, King Uprock – Marcus Garvey Park