by nynt on July 23rd, 2009
Tonight Mr. Jonathan Toubin embarks upon a west coast tour consisting primarily of his New York Night Train Soul Clap and Dance-Off parties but also including a couple of Quintron and Ms. Pussycat shows! Look at some of the press from the last couple of days…

Dance Club Pick of the Week in LA Weekly by Lina Lecaro

"Tonight: Members of No Age, Germs, RTX Judge Dancers at New York Night Train's Soul Clap and Dance-Off" by LA Weekly's Randall Roberts

"Fanfare for the Playing Man: If You Were Cool You Would Go to This" by Josh Frankfort for his KXLU blog

All Shook Down: Hey DJ! Q&A: Jonathan Toubin: – Interview w/Mr. Jonathan Toubin by SF Weekly's Jennifer Maerz

Something Like a Phenomenon – a recommendation for Monday's Soul Clap and Dance-Off by SF Weekly's Hiya Swanhuyser

Soul Clap and Dance-Off – a feature on NYNT's party by Monica Topping in today's Times-Standard

"Dust on Vinyl: DJ Jonathan Toubin brings his record crate to the ATL" by Mark Shikuma of North Coast Journal

Q+A with DJ Jonathan Toubin – and interview in today's North Coast Journal by Mark Shikuma

Bothering: Jonathan Toubin – an interview in yesterday's Impose Magazine by Jay Diamond

here are the dates and details! tell yr peops!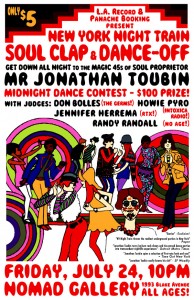 Fri, July 24: LA Record presents Soul Clap and Dance-Off w/Mr. Jonathan Toubin and judges Don Bolles (Germs, 45 Grave, 3-Day Stubble, etc), Howie Pyro (Intoxica Radio, ex-Danzig, D-Generation, Blessed, etc.), Jennifer Herrema (RTX, ex-Royal Trux), Randy Randall (NO AGE), Nomad Warehouse (Los Angeles, CA)

The Soul Clap and Dance-Off is not only New York Night Train's biggest and most famous party, but one of the NYC underground's more popular monthly nightlife institutions. The first all-soul night of subterranean maximum rock and soul DJ Mr. Jonathan Toubin, the concept is elegant – all night dancing to wild amazing 45s and a dance contest in the middle. The party has grown to sell out every month – draw nearly 500 paid patrons while remaining true to its DIY aesthetics – garnering acclaim in practically every NYC publication, featuring judges from every edge of music from Monotonix to MGMT – and now spreading around the world – from Calgary to Mexico to Israel.

– Sat, July 25 Oakland: House/bus party w/Mr. Jonathan Toubin, (Oakland, CA)

– Sun, July 26 San Francisco: Panache Booking presents Mr. Quintron and Ms. Pussycat, Mika Miko, Ty Segal, Audacity, and Mr. Jonathan Toubin at Parkside (San Francisco, CA), $12

– Mon, July 27 San Francisco: Lusty Lady and Panache Booking Present SAN FRANCISCO SOUL CLAP and DANCE-OFF w/DJ Mr Jonathan Toubin and judges Cinnamon (Lusty Lady), Dave Katznelson (Birdman Records), Kimberly Chun (SF Bay Guardian), Jay Howell (Mtn St Mtn), Jello Biafra (Dead Kennedys, Alternative Tentacles), Jennifer Maerz [ SF Weekly ], Kimberly Chun [SF Bay Guardian ), Paul Costuros (Death Sentence Panda, Saturday Soul Party), Primo (Oldies Night), Prince$$ Pandora (Lusty Lady), Elbo Room 9pm – 2am, $5

– Tue, July 28 Arcata, CA: KSLG and Panache Booking presents HUMBOLT COUNTY SOUL CLAP and DANCE-OFF w/Mr. Jonathan Toubin and judges Aimee Hennessey, Bandon Taylor (The Works), Charlotte & Melissa Medina (The Ravens), Jennifer Savage (KSLG), Matt Jackson (Missing Link Records), Michelle Cable (Panache Magazine) The Monster Women, Steve Bohner (of Alchemy Construction, formerly of the Hitch), Arcata Theater Lounge (Arcata, CA), 18+, $5

– Wed, July 29 Portland: Mr. Quintron and Ms. Pussycat and Mr. Jonathan Toubin, Berbati's (Portland, OR)

– Thurs, July 30 Portland: Voodoo Doughnuts and Panache Booking presents PORTLAND SOUL CLAP and DANCE-OFF w/Mr. Jonathan Toubin and guest DJ Beyonda and judges Charlie Salas-Humara (Panther), Gabe Lageson (Nice Boys/East End), Maggie Vail (Kill Rock Stars/The Bangs), Maxamillion (Get Hustle, Magick Daggers, etc.), Scout Niblett, and Tres Shannon (Voodoo Doughnuts) at Rotture (Portland, OR), 21+, $3

– Fri, July 31 Portland: Mr. Jonathan Toubin at East End (Portland, OR)

– Fri, July 31 New York: Shakin' All Over Under Sideways Down w/DJs Howie Pyro and Kid Congo Powers, Home Sweet Home (131 Chrystie), 10pm, $3

– Sat, Aug 1: OLYMPIA SOUL CLAP and DANCE-OFF w/DJ Mr. Jonathan Toubin

– Sat, Aug. 8: Soul Clap and Dance-Off, Glasslands Gallery followed by late-night Todd P dance-party speakeasy at Market Hotel

Join New York Night Train's mailing list for both public and covert information at mailinglist@newyorknighttrain.com
Follow New York Night Train on Twitter! https://twitter.com/NY_Night_Train
Become "friends" with New York Night Train on Facebook http://www.facebook.com/pages/New-York-Night-Train/47167209984 or Myspace http://www.myspace.com/newyorknighttrain

don't fight it – feel it!…