by nynt on October 22nd, 2012
its that time again! JONATHAN TOUBIN has recorded his third annual live HALLOWEEN MIX! stream it here!


or download the mp3 here



New York Night Train 7th Anniversary Haunted Hop w/Jonathan Toubin, Dionne Werewolf (all Bacharach covers with horror themes by an allstar werewolf orchestra), Hula Hoop Harlot Melissa Anne, The Land of 1000 Dances Dancers (Sarah King, Elona Jones, and one more), B.A. Miale visuals, $100 Costume Contest, Spooky Special Drinks, and much more at BROOKLYN BOWL, SATURDAY OCTOBER 27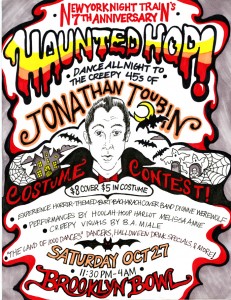 facebook event


here's a little more about the mix…

Every October I press "record" and lay down an improvised live unedited mix of some of the most supremely spooky goofy stuff ever buried into wax. 100% culled from the secret history of haunted novelties, most of the recordings here, like the mummies of their lyrics, are long forgotten relics. But unlike the mummified pharoahs, these were all unknowns in their day. You can help give these monsters the justice that they deserve by bringing them back to life with me! Download this onto your iPod or iPad or iPhone or i-whatever! Play it at your work or Halloween party or laptop DJ gig! I don't know if anyone's gonna be scared but your unique party music will be the envy of your family, friends, and neighbors! Not really… But one can't live on "The Monster Mash" and "Thriller" alone! Also, If you're a fan of these lost artifacts of our greatest national holiday, escape from your dwellings so we can give these undead exquisite corpses a new pulse on the dance floor! I'll be serving hours of these dark delicacies and dozens more at The Haunted Hop at NYC's Brooklyn Bowl on October 27 (https://www.facebook.com/events/162832480515103/) and New Orleans' Siberia on October 30. Catch these little monsters before they scurry back into their tombs 'til next year.

Love and candy corn,
Jonathan Toubin

1. Baron Daemon and the Vampires "Ghost Guitars" (WHYS TV, 1963): Throughout the 1960s Syracuse TV newsman Mike Price had a long-running local late night show as horror movie host Baron Daemon. This B-side to "Transylvania Twist" is a top notch spooky surf instrumental by the Vampires (local group Sam and the Twisters) with the Baron rapping on top… He's no Jay-Z but that makes it even more ideal for our purposes.?

2. Gary Warren "Werewolf" (Nasco, 1958): One of the best ever songs of the season! EVER! I was unable to learn anything about Gary Warren or any other details but "Werewolf" is such a spooky supreme rocker in every regard that it speaks for itself and stands up outside of the monster genre…

?3. Salmas Brothers with Bumps Blackwell Orchestra "Zombie" (Keen, 1959): This long-lived west coast chicano vocal trio this time is backed up by Bumps Blackwell, who's best known for producing Little Richard's early hits and other great Specialty records. Also arranged by a young music industry up-and-comer named Herb Alpert. ZOMBIE DANCE PARTY!

4. Claudine Clark "Walking Through a Cemetery" (Chancellor, 1962): Released as the follow-up to her huge self-pinned Top 5 hit "Party Lights," this deadly dance jam single-handedly sunk her career despite an blazing vocal performance, strong beat, and oom-bop sha doodie doodie… You know the story, sometimes folks just don't get it.

5. Merv Griffin "House of Horrors" (Mercury, 1962) Before he was one of the world's most famous talk show hosts and before he created "Jeopardy!" and "Wheel of Fortune", Merv Griffin made one of the most baroque Halloween records ever – cartoon chaos bouncing into tight breaks full of shrieks and howls and references to an encyclopedia of creepy culture. And you can skank to it Rudy! As Merv asks at the end in his best Dracula voice, "Horrible! Wasn't it?"

?6. Screamin' Jay Hawkins "All Night" (Decca, 1966) – My favorite Screamin' Jay dance jam, though not one of his better-known numbers, is fierce enough to play all year long in any situation – the o.g. shock rocker and quintessential Halloween artist at his fastest, most urgent, and most danceable.

7. Bily Snel "One Too Many Heads" (Wild, 1958): This super-rare jumpy bopper is artist/illustrator Bily Snel's only known record. His protagonist is just wild about his girlfriend with one heart, two heads, three teeth, and four eyes. His only problem is he doesn't know which one to touch!

8. Carole Bennett "Haunted Lover" (Capitol, 1957): Carole Bennett is a haunted lover since he left her in this poltergeist popcorn swinger! "Your memory keeps sneaking up behind me trying to remind me… Even my shadow's running for cover!"

9. The Copycats featuring Kimo and Sabbe "The Abominable Snowman" (Prince, 1960): Another of the greatest monster hits of all time! And, like the "Monsters' Holiday" genre, also suitable for Christmas. This superbad snowman is "public monster number one!" – getting his kicks catching mountaineers and pushing them off cliffs. But you're probably safe. He lives up high because if he lived down low, he'd turn into a puddle of H2O…

10. The Fortunes with Adam Keefe as "Professional Ghoul" "The Ghoul In School" (Cub, 1963): Not to be confused with the British Merseybeat Fortunes, this unknown girl group is joined by a Peter Lorre-esque ghoul played by Adam Keefe (???) in the theme song from the horror cult classic flick "Werewolf in a Girls' Dormitory" – about a murderous werewolf terrorizes a school for wayward girls.

11. The Couplings "Egor" (Prism, 1964): The obscure combo responsible for the demented classic "Dill Tickle" offer a danceable duet between irritable master Dracula and an unruly Egor who is caught playing with Dracula's train. Egor winds up tying his master to the track and… Never mind! Like a lot of the best popular music the lyrics and narrative are totally amateurish but this one oozes a weird charm and locks into a very catchy latin-tinged Sloopy beat…?

12. The Zanies "The Blob" (Era, 1958): This Los Angeles recording combo that released a couple of decades worth of interesting instrumentals and novelties on Dore do a killer take on the Five Blobs' Burt Bacharach/Hal David-pinned hit. The flip "Do You Dig Me Mister Pigmy". Sorry for the condition of this record but I've been hitting it on Halloween for years and its too good to exclude.?

13. Art Roberts "Terrible Ivan" (Imperial, 1958): Another all-time favorite! The demented flip of "Give Her the Axe Max"?…

14. Joe Johnson "Gila Monster" (Cascade, 1959): For Joe Johnson's story, see Nick Tosches' "Save the Last Dance For Satan" (Kick's Books). This would be goofy garage worthy of your attention even if it didn't have such an interesting story. Joe Johnson was the bandleader at Jack Ruby's Vegas Club (the Warren Commission's report on the Kennedy assassination mentions Ruby's involvement in the recording!). If you like this and don't wanna spend the time and money finding it, Norton records recently re-released the song on 45.?

15. The Naturals "The Mummy" (Era, 1959): This rockabilly novelty's narrator finds himself opening up a mummy's casket in Egypt, learns that his new ancient friend was a musician, and winds up hitting it big after he gets this bronze age bard in his rock and roll band… But all the mummy wants is to be let back in his tomb…

16. Jack Marshall's Music "The Ghoul" (Capitol, 1962): A prestigious Capital Records producer/arranger/composer, Jack Marshall also did the music for "The Munsters". This humongous horror surfer really swings hard and comes in a first class picture sleeve (http://static.rateyourmusic.com/album_images/62dabe8e90ce88fa2fe9434609774d2a/3740230.jpg)?…

17. Teddy Durant "The Beast of Sunset Strip" (Impression, 1965): This beatnik exploitation pop culture rock poem is about a new kind of monster… The kind that drinks blood, eats corpse meat, chases chicks, likes blondes, and has big bad teeth, plays the bongos with the watusi beat, and does the jerk and the swim right on his feet… Don't meddle with this scuzzy dude! Forget him! Just hop in your woody and split man split!…
18. The Brigidi Sisters "That Tickles" (Chancellor, 1959): Another song about a man who spent 3000 years of contentment before getting dug up… Don't really understand everything they're saying. A new acquisition that impulsively ended up here in the last second for a reason that hasn't even yet been revealed to me…

19. Googie Rene Combo "The Chiller" (Class, 1964): Straight outta Romesville, this groovy beatnik jazz organist made a whole slew of boss 45s. This is the only one I know of where he explores his spooky side.?…

20. Gary "Spider" Webb "The Cave (Part I)" (Bamboo, 1961): Another one of my all time faves! This one's hard to find in the original but can be found comped here and there. On a dark rainy night Jimmy and Julie duck into the shelter of a cave. They get lost and separated from one another and they booth freak the frug out! They spend the entire record calling out to one another in fear while the mysterious tremolo of minor key surf guitars reverberate above of a tribal beat. A stone cold classic!

21. Music For Monsters "Ghoul's Glide" (Sounds, 1962): I bought this solo theremin 45 for its low-fi werewolf cover. While I don't typically do much in the way of snippets anymore, I employed this one to allow me a moment to flip the previous record over for part 2…

22. Gary "Spider" Webb "The Cave (Part II)" (Bamboo, 1961): Kind of like Part I but a looser jazzier take showcasing the drums of the Hollywood Argyles' Gary Webb. I couldn't decide which side to give you so you get more of a dark cave scaring the bejesus out of Jimmy and Julie…

BONUS TRACK?:

23. The First Theremin Era "The Barnabas Theme From 'Dark Shadows'" (Epic, 1969): Totally out of place here stylistically and chronologically, I couldn't resist tacking on this groovy theremin driven mover from the "Dark Shadows" TV show.