by nynt on November 1st, 2012
what a week! how's everybody holding up out there? my first two cancellations this week, in new orleans, resulted in two local gigs to benefit the red cross' hurricane effort. the first, an improvised day-of party in the back of union pool resulted in a $1500 donation from the club and alana amram's monster mash at glasslands last night raised more than $2,200. as for tomorrow, my appearance at wfmu record fair was cancelled because there's no record fair this year! it's like losing christmas (or in the case of jersey, halloween…). anyhow, to make matters worse, sandy knocked wfmu off the air and their studio and transmitter sites are in need of repair. if any of you enjoy wfmu, this would be an excellent time to contribute to their great cause. go here to donate and get some great gifts in return. SHAKIN' ALL OVER UNDER SIDEWAYS DOWN at HOME SWEET HOME is now cancelled this week – for the first time in over 200 fridays! next, los globos, the venue for saturday's LOS ANGELES SOUL CLAP & DANCE-OFF got shut down monday night! but the good news is that the good folks at THE MONTY BAR are now hosting our event. you should send me some of your friends. NEIL HAMBURGER is my contest selector and the judges are ARIEL PINK, ERIC ANDRE, CLOWNVIS PRESLEY, JENNIFER HERREMA, and SHEILA VAND. and, in my first stable gig in ten days, tuesday brightest young things are bringing me to WASHINGTON, D.C. to do the soul clap at their ELECTION NIGHT PARTY at the iconic BOHEMIAN CAVERNS (yes of ramsey lewis "live at bohemian caverns" fame). finally, i know that many of you have a lot to deal with right now but i also know a most of you have more time on your hands than usual and not only would i like to encourage you to help your fellow new yorkers out in a more official capacity (WNYC made this excellent list of places to volunteer around town), but you can follow me to norton records today and tomorrow to help them save their inventory from the storm. its gonna be fun, here's a short letter from the norton crew. come to their clean up party and pass this along…
Thanks again to our many friends who have been offering support following the devastating destruction that Hurricane Sandy wreaked upon the Norton Records warehouse in Brooklyn. Our electricity was restored today and we were able to assess the heavy damage.
We can use help – not at our warehouse – but at our office in Prospect Heights. If any of you would like to volunteer your time at any point between now and Monday – even for just a few hours, we need as many people as possible to help clean and organize records that we are bringing from our warehouse. Celebrities may be in attendance. At this very moment, noted superstar Andy Shernoff is on hand pitching in.
Here's the swell bonus. With the cancelation of this weekend's WFMU Record Fair, we are setting up the two tables worth of records that would have been available at the Fair for your shopping pleasure, right here in our office.
If you would like to volunteer, please call 917 671 7884 or e-mail nortonrec@aol.com to arrange times and give you directions.
Thanks so much,
The Norton Records staff
ok nyc! great job so far! but lets not stop pumping 'til everyone's ok and everything's back to normal!
love,
jt
11-02 New York, NY – Home Sweet Home
Shakin' All Over Under Sideways Down – CANCELLED!
11-03 Los Angeles, CA – The Monty: Soul Clap and Dance-Off with DJ JONATHAN TOUBIN, early DJ CHRIS ZIEGLER (L.A. RECORD http://www.larecord.com) contest selector NEIL HAMBURGER (America's Funnyman! http://www.americasfunnyman.com), and judges ARIEL PINK (http://4ad.com/artists/arielpinkshauntedgraffiti), ERIC ANDRE (ADULT SWIM'S ERIC ANDRE SHOW http://video.adultswim.com/the-eric-andre-show/), CLOWNVIS PRESLEY (KING OF CLOWNS http://clownvispresley.com/), JENNIFER HERREMA (BLACK BANANAS/ROYAL TRUX http://www.blackbananasband.com/), SHEILA VAND (ARGO, etc. http://www.imdb.com/name/nm2611074/)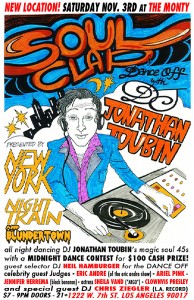 (facebook event)
– 11-06
Washington, DC – Bohemian Caverns: special BYT election night SOUL CLAP and DANCE-OFF (facebook event)
– 11-09 New York, NY – Home Sweet Home: Shakin' All Over Under Sideways Down (facebook event)
– 11-10 Detroit, MI – Old Miami: Soul Clap and Dance-Off (Facebook event)
– 11-16 New York, NY – Home Sweet Home: Shakin' All Over Under Sideways Down w/JT & Patrick Griffin (baltimore's save your soul, etc.) (facebook event)
– 11-17 Brooklyn, NY – Brooklyn Bowl: Soul Clap and Dance-Off w/JT & contest selector DAVID JOHANSEN
– 11-22 Enid's: Annual NYNT Thanksgiving Thirds
– 11-23 New York, NY – Home Sweet Home: Shakin' All Over Under Sideways Down w/JT, Beyonda (pdx), and Gabe (austin) (facebook event)
– 11-24 Atlanta, GA – The Earl: Soul Clap and Dance-Off featuring a live performance by the Gaye Blades (facebook event)
– 11-30 New York, NY – Home Sweet Home: Shakin' All Over Under Sideways Down w/JT and Fine Wine (downtown soulville)
(facebook event)
– 12-01 St. Paul (Minneapolis), MN : Soul Clap and Dance-Off at the Turf Club
– 12-08 Miami, FL: Art Basel Madness
12-15 Brooklyn, NY – Brooklyn Bowl: Soul Clap and Dance-Off
-12-29 Chicago, IL – The Hideout: Soul Clap and Dance-Off