by nynt on November 15th, 2012
11-16 New York, NY – Home Sweet Home
Shakin' All Over Under Sideways Down
w/Jonathan Toubin & "Action Pat" Griffin (miami, + baltimore's save your soul, etc.)
10:30pm-4am $5 (free entry before 11am and after 3am)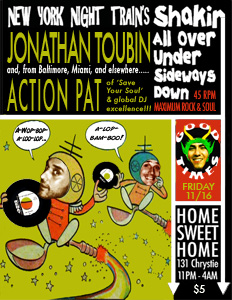 facebook event
and tomorrow… get all dolled up for the clap at brooklyn bowl with contest selector DAVID JOHANSEN!!!!….
11-17 Brooklyn, NY – Brooklyn Bowl: Soul Clap and Dance-Off
dance all night to the magic 1960s soul 45s of Jonthan Toubin
1AM Dance-Off with contest selector DAVID JOHANSEN
judged by the baristas of GIMME COFFEE!
11:30pm-4am $7 (also with $5 call drink specials to make it a recession-friendly night out!)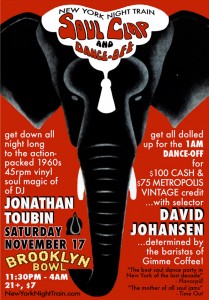 facebook event
and check out Time Out's excellent photos from the last Clap at the Bowl here

and, sunday, turn up to help norton set the guiness book record for world's biggest record wash…
11-18 (early) Brooklyn, NY – Brooklyn Bowl: NORTON RECORD CLEANING PARTY
w/DJs Jonathan Toubin, Josh Styles, Todd-O-Phonic Todd, The Hound (!!!!!!), Phast Phreddie, Mr. Fine Wine, Dave the Spazz, Debbie D, Drew Redmond, Avi Spivak, Charly Himmel, Jeff the Chef,…. WOW!
4pm-12am, FREE (but quality paper towels are encouraged)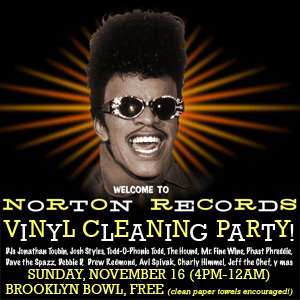 Help Norton Records save their inventory from Hurricane Sandy damage while you listen to NYC's finest DJs! This is gonna be good times for a good cause. Fall by to listen, dance, and clean records! Also I heard tell that Norton will be bringing limited stock of their upcoming releases for you to own before the rest of the world! Learn more about Norton, their catastrophe, and what you can do to help here on the Norton Records site.
UPCOMING NIGHT TRAINING:
– 11-22 ENID'S: ANNUAL NYNT THANKSGIVING THIRDS LEFTOVERS PARTY & DANCE w/J TOUBIN & FAMILY! FREE!
– 11-23 New York, NY – Home Sweet Home: Shakin' All Over Under Sideways Down w/JT, BeyondaDoubt (pdx's i've got a hole in my soul), and Second Line Social (gabe of austin's breakway records/r&b45.com/sock hop) (facebook event
11-24 Atlanta, GA – The Earl: Soul Clap and Dance-Off featuring a live performance by the Gaye Blades and the Coathangers (facebook event)
– 11-30 New York, NY – Home Sweet Home: Shakin' All Over Under Sideways Down w/JT and Fine Wine (downtown soulville) (facebook event)
– 12-01 St. Paul (Minneapolis), MN : Soul Clap and Dance-Off at the Turf Club
– 12-08 Miami, FL: Art Basel Madness
– 12-15 Brooklyn, NY – Brooklyn Bowl: Soul Clap and Dance-Off
– 12-29 Chicago, IL – The Hideout: Soul Clap and Dance-Off