by nynt on November 29th, 2012
11-30 New York, NY – Home Sweet Home
Shakin' All Over Under Sideways Down
MICKEY BAKER TRIBUTE w/JONATHAN TOUBIN and MR. FINE WINE (wfmu's downtown soulville):
Jonathan Toubin and his guest, WFMU's legendary Mr. Fine Wine do what they would normally do except tonight they'll be extra-heavy on tracks featuring the wild guitar of Mickey Baker in tribute to the man's life and work.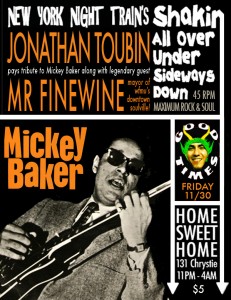 facebook event
12-01 St. Paul (Minneapolis), MN – Turf Club
Soul Clap and Dance-Off w/Jonathan Toubin – plus Lady Heat DJs & 12am contest w/selector Brian Engle of the Hipshaker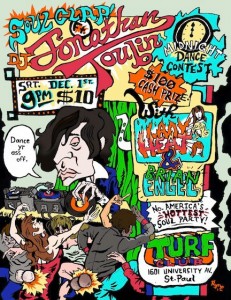 facebook event
UPCOMING NITE TRAINING:

– 12-05 Brooklyn, NY: The Gutter: Joe "Fashion Night Out" Fiorentino Memorial & Fundraising Event w/Jonathan Toubin plus bands, bbq by breezy, beer, bowling, auction, etc.:
Joe Fiorentino, who played bass for Artanker Convoy, James Murphy, Daughter, and a number of others over the years passed away unexpectedly the week before last. He is survived by his wife and two children and this isn't only a memorial but also a benefit for their fund. If you can't make it but still want to contribute, please do so here
(
http://youcaring.com/memorial-fundraiser/Fiorentino-Friedrichs-Family-Fund/35660
).
facebook event

– 12-07 New York, NY – Home Sweet Home: Shakin' All Over Under Sideways Down (facebook event)
– 12-08 Miami, FL: Gramps – Art Basel Panache Party
Soul Clap and Dance-Off plus live Teengirl Fantasy, Dent May, Ital, and more – party starts at 12pm and goes all day and then JT on from 10:30pm-2am, FREE (facebook event)
– 12-12 Brooklyn, NY: Union Pool – Benefit for Dee (more details to come)
– 12-14 New York, NY – Home Sweet Home: Shakin' All Over Under Sideways Down (facebook event)
– 12-15 Brooklyn, NY – Brooklyn Bowl: Soul Clap and Dance-Off
– 12-21 New York, NY – Home Sweet Home: Shakin' All Over Under Sideways Down w/JT & Ian Svenonius (facebook event)
– 12-28 New York, NY – Home Sweet Home: Shakin' All Over Under Sideways Down (facebook event)
– 12-29 Chicago, IL – The Hideout: Soul Clap and Dance-Off
– 12-31 (8pm-8am) New York, NY – Home Sweet Home – NYNT NEW YEARS EVE SPECTACULAR + afterhours fun w/JT, DJs, and live bands – all family and friends – from dusk 'til dawn – details TBA
– 01-04 New York, NY – Home Sweet Home: Shakin' All Over Under Sideways Down (facebook event)
– 01-05 Alston, MA – first ever Boston Soul Clap and Dance-Off