by nynt on February 14th, 2013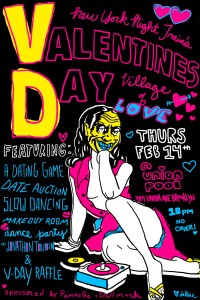 02-14 Brooklyn, NY – Union Pool: Panache Booking presents New York Night Train's VD (Valentine's Day) VILLAGE OF LOVE 2-Room Extravaganza!, 10PM-2AM, FREE Here's the deal, instead of the usual NYNT Valentines Day cynicism, we are employing good old fashioned Situationalist detournement to take this thing to the next level by turning the lamest 'holiday' on its head. Instead of being about insecurity and buying stuff, we are gonna make it about real love and giving and fun. First off, we are gonna give all the proceeds to Planned Parenthood – so your good times will also be for a great cause. Secondly, we are using an old standard to create a new concept in meeting people – THE DANCE CARD. In the front of room there's dancing to upbeat love-related songs with Andy Maltz (Little Killers), Drew Redmond (Finger Lickin' Friday), Leah Fishman (Nouvellas). If you meet someone you like, you can ask them to sign your dance card and take them to the make-out room out back for a romantic couples dance with DJs Jonathan Toubin (NY Night Train), Phast Phreddie the Boogaloo Omnibus and GirlSoul (Dynagroove, Discophonic Walk, etc), and Leah Fishman. The material in the back will range from the slower "I Only Have Eyes For You"/"Sleepwalk" tempo to the more rhythmic "Love Is Strange"/"Cry to Me" speed – but all will be suitable for dancing up close and personal. Since the dance card has room for a number of names, it frees dancers from obligation to a single individual and encourages them to try out a number of dance partners. We hope that this process will make you new friends and maybe even find you that certain someone. While this is designed with singles in mind, the back room is also for couples who want a romantic night of dancing to music that doesn't suck. Also, don't miss the dating game (11pm) and the raffle (12am – details below – check out the incredible list of prizes!). WE ARE GONNA HAVE FUN!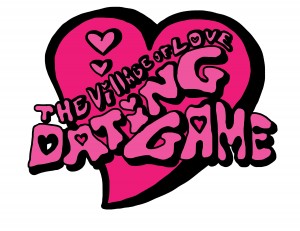 Facebook event
Here's the raffle details – we have a bunch of amazing prizes donated from our community's favorite businesses – so your chances of winning are as great as the prizes:
– $500 Brooklyn Bowl gift certificate (BOWLING FOR 8)
– Dandelion Wine Lovers Gift Package ( Baggu bag filled with a bottle of sparkling wine, recyclable/ reusable wine "glasses", a wine key, and a $40 gift certificate)
– $40 at Five Leaves
– $50 at Fox & Fawn
– $50 gift certificate at Union Pool
– 3 month gift certificate for unlimited drip filter coffee at cake-shop (x2)
– $100 Home Sweet Home Gift Certificate
– Dinner for 2 at Little Neck
– $50 Manhattan Inn Gift Certificate
– $50 Record Grouch Gift Certificate
– $50 Heaven Street Records Gift Certificate
– $50 Daddy's Bar Gift Certificate
– 10 Beer Tokens at Brooklyn Brewery Gift Certificate (x3)
– $50 Gift Certificate at Metropolis Vintage
– Two movie passes at Nitehawk Cinema
– Gift Certificate at Passenger Bar (4 drinks and 2 large soft pretzels)
– Baggu Gift Bag Set (Tote & Laptop Case & extra goodies)
– Mast Brothers Chocolates (5 bars)
– Guitar Lesson with Marnie Stern
– One hour Personal Trainer Session w/ Patricia Pinto at Quick Fitness
– Ping Pong lesson at SPIN Galactic w/ Franck Raharinosy
– Arrojo Salon Gift Certificate
– Glitterlimes Gift Package
– Haircut @ The Parlor Salon (x2)
– Rainbow Sweater designed by Alexander Campaz
– Harlequin Scarf designed by Alexander Campaz
– Bruise Cruise Speedo designed by Alexander Campaz / Bruise Cruise
– Bruise Cruise One Piece Bathing Suit designed by Alexander Campaz
– Woodley and Bunny Salon & Apothecary Gift Basket (SANS Bodycare and 3 Obsessive Compulsive Cosmetics Valentine's-Themed Lip Colors)- Value of $130 *
WOW! That's nothing to sneeze at! We would like to encourage not only to buy a bunch of tickets, but also to make a habit of supporting these fine local businesses. Anyway, even if you don't care about Valentines Day and all of that jazz, our Village of Love is still a night of great music, people, and prizes at a great place for a great cause! If anything just come by and throw a few bucks in the Planned Parenthood pot!
– 02-15 New York, NY – Home Sweet Home: Shakin' All Over Under Sideways Down!
Tardy Gras edition w/Jonathan Toubin, 10:30PM-4AM, $5 (FREE ENTRY BEFORE 11PM):special all-Louisiana early rock and roll, blues, & rhythm & blues edition! Dance all night to 45rpm laissez les bons temps rouler!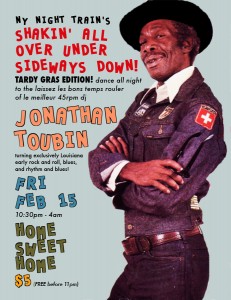 facebook event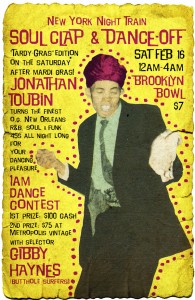 02-16 Brooklyn, NY – Brooklyn Bowl: SOUL CLAP & DANCE-OFF: special TARDY GRAS edition w/JONATHAN TOUBIN, secret special live cameo artist, & contest w/selector GIBBY HAYNES, 11:30PM-4AM, $7: Tardy Gras – NYNT's traditional holiday for those who partied so hard that they missed Mardi Gras! Jonathan Toubin turns all original Louisiana soul, r&b, and funk 45s all night! And expect a wild New Orleans live cameo performance by a secret band! Plus get in the 1AM contest for $100 CASH / $75 METROPOLIS VINTAGE Certificate w/selector GIBBY HAYNES (Butthole Surfers – who the 2012 New Orleans Jazz and Heritage Festival flew down to do a set of all Crescent City covers!) and a judge panel led by big easy expat STEVE MEYERS (Mighty Fine). Also, if its full early, pop by again after 2AM – a number of folks clear out after the contest – leaving room for new ones to come in – and the people and dancing just get better as the night progresses!
facebook event | advance tickets
check out Gabi Porter's shots of Tardy Gras 2011 here!
UPCOMING NITE TRAINING:
– 02-22 New York, NY – Home Sweet Home: Shakin' All Over Under Sideways Down w/Jonathan Toubin and guest DJ Todd-O-Phonic Todd (WFMU, Telstar Records, etc)
– 02-23 Middletown, CT – Weslayan University: Soul Clap and Dance-Off
– 03-01 New York, NY – Home Sweet Home: Shakin' All Over Under Sideways Down w/Jonathan Toubin
– 03-02 Pittsburgh, PA – The Brillo Box: Soul Clap and Dance-Off
– 03-08 New York, NY – Home Sweet Home: Shakin' All Over Under Sideways Down w/Josh Styles and Friends
– 03/08 Austin, TX – Springdale Farms: Brooklyn Brewery Mash: Soul Clap and Dance-Off w/JT (details)
– 03-09 Savanah, GA – Savanah Stopover Festival: Soul Clap and Dance-Off
– 03-10 Denton, TX – 35 Denton Festival: Soul Clap and Dance-Off
– 03-14 New Orleans, LA: Brooklyn Brewery Mash: Soul Clap and Dance-Off w/JT
– 03/15 Austin, TX – The Long Branch: – 03-15 New York, NY – Home Sweet Home: Shakin' All Over Under Sideways Down w/Beyondadoubt (PDX) and Drew Redmond
– 03/16 Austin, TX: SXSW VICE PARTY
– 03-17 Austin, TX – The old Emo's: OFFICIAL SXSW SOUL CLAP & DANCE-OFF w/JT
– 03-22 New York, NY – Home Sweet Home: Shakin' All Over Under Sideways Down w/JT and guest Greg Cartwright (Reigning Sound, Oblivions, etc)
– 03-23 Brooklyn Bowl: Soul Clap and Dance-Off 6 Year Anniversary Party with many special surprises
– 03/28 Bowery Ballroom: Pop Night w/Jonathan Toubin playing only songs you've heard before
– 03/29 New York, NY – Home Sweet Home: Shakin' All Over Under Sideways Down
– 3/30 San Francisco: Rickshaw Stop: SOUL CLAP & DANCE-OFF w/JT (tickets)
April highlights:
04/03 New York, NY – Westway: Shaw Promotion's Harley Davidson Launch Party w/JT & more
04/11 Nashville, TN – Stone Fox: Brooklyn Brewery MASH: SOUL CLAP & DANCE-OFF
04/13 Chicago, IL – Hide Out: Shakin' All Over Under Sideways Down w/JT and Velcro Lewis Group (tickets)
04/20 Brooklyn, NY – Brooklyn Brewery: Soul Clap and Dance-Off
04/27 Purchase, NY: SUNY Purchase SOUL CLAP & DANCE-OFF w/JT