by nynt on February 15th, 2013
02-15 New York, NY – Home Sweet Home: Shakin' All Over Under Sideways Down!
Tardy Gras edition w/Jonathan Toubin, 10:30PM-4AM, $5 (FREE ENTRY BEFORE 11PM):special all-Louisiana early rock and roll, blues, & rhythm & blues edition! Dance all night to 45rpm laissez les bons temps rouler!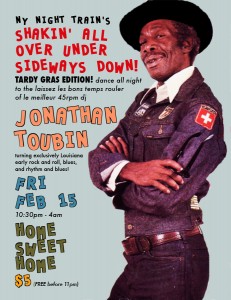 facebook event
then, on Saturday, hold on to your hats…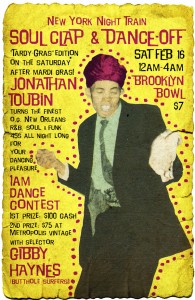 02-16 Brooklyn, NY – Brooklyn Bowl: SOUL CLAP & DANCE-OFF: special TARDY GRAS edition w/JONATHAN TOUBIN, secret special live cameo artist, & contest w/selector GIBBY HAYNES, 11:30PM-4AM, $7: Tardy Gras – NYNT's traditional holiday for those who partied so hard that they missed Mardi Gras! Jonathan Toubin turns all original Louisiana soul, r&b, and funk 45s all night! Plus get in the 1AM contest for $100 CASH / $75 METROPOLIS VINTAGE Certificate w/selector GIBBY HAYNES (Butthole Surfers – who the 2012 New Orleans Jazz and Heritage Festival flew down to do a set of all Crescent City covers!) and a judge panel featuring Steve Myers of Mighty Fine, Isabel Almeida of Hunters,Alix Brown of Glittering Prizes, Tennessee Thomas of The Like, and Nick Albrook and Jay Watson of Tame Impala.
facebook event | advance tickets
check out Gabi Porter's shots of Tardy Gras 2011 here!

UPCOMING NITE TRAINING:
– 02-22 New York, NY – Home Sweet Home: Shakin' All Over Under Sideways Down w/Jonathan Toubin and guest DJ Todd-O-Phonic Todd (WFMU, Telstar Records, etc)
– 02-23 Middletown, CT – Weslayan University: Soul Clap and Dance-Off
– 03-01 New York, NY – Home Sweet Home: Shakin' All Over Under Sideways Down w/Jonathan Toubin
– 03-02 Pittsburgh, PA – The Brillo Box: Soul Clap and Dance-Off
– 03-08 New York, NY – Home Sweet Home: Shakin' All Over Under Sideways Down w/Josh Styles and Friends
– 03/08 Austin, TX – Springdale Farms: Brooklyn Brewery Mash: Soul Clap and Dance-Off w/JT (details)
– 03-09 Savanah, GA – Savanah Stopover Festival: Soul Clap and Dance-Off
– 03-10 Denton, TX – 35 Denton Festival: Soul Clap and Dance-Off
– 03-14 New Orleans, LA: Brooklyn Brewery Mash: Soul Clap and Dance-Off w/JT
– 03/15 Austin, TX – The Long Branch: – 03-15 New York, NY – Home Sweet Home: Shakin' All Over Under Sideways Down w/Beyondadoubt (PDX) and Drew Redmond
– 03/16 Austin, TX: SXSW VICE PARTY
– 03-17 Austin, TX – The old Emo's: OFFICIAL SXSW SOUL CLAP & DANCE-OFF w/JT
– 03-22 New York, NY – Home Sweet Home: Shakin' All Over Under Sideways Down w/JT and guest Greg Cartwright (Reigning Sound, Oblivions, etc)
– 03-23 Brooklyn Bowl: Soul Clap and Dance-Off 6 Year Anniversary Party with many special surprises
– 03/28 Bowery Ballroom: Pop Night w/Jonathan Toubin playing only songs you've heard before
– 03/29 New York, NY – Home Sweet Home: Shakin' All Over Under Sideways Down
– 03/30 San Francisco: Rickshaw Stop: SOUL CLAP & DANCE-OFF w/JT (tickets)
April highlights:
04/11 Nashville, TN – Stone Fox: Brooklyn Brewery MASH: SOUL CLAP & DANCE-OFF
04/13 Chicago, IL – Hide Out: Shakin' All Over Under Sideways Down w/JT and Velcro Lewis Group (tickets)
04/20 Brooklyn, NY – Brooklyn Brewery: Soul Clap and Dance-Off
04/27 Purchase, NY: SUNY Purchase SOUL CLAP & DANCE-OFF w/JT