by nynt on July 16th, 2013
07/19 New York, NY – Home Sweet Home: Shakin' All Over w/Jonathan Toubin and guest DJ BeyondaDoubt (Portland, OR), 10:30pm-4am, $5 (FREE before 11!): NYNT's all night weekly 45rpm "maximum rock and soul dance!"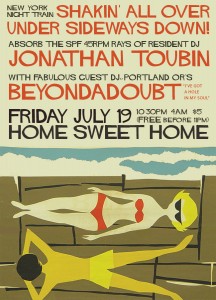 facebook event
and SATURDAY, it's that time of the month again!

07/20 Brooklyn Bowl: Soul Clap and Dance-Off w/Jonathan Toubin, contest selector Eleanor Friedberger, and 1AM Metropolis Vintage Dance-Off judged by Otha's Coffee. Get there early for two special gospel/soul dance party sets by thee incredible Reverend Vince and the Love Choir: the world's most popular soul 45 party! all night 1960s soul dance with a 1am dance contest for 1st) $100 cash/ 2nd) $75 Metropolis Vintage shopping spree/ 3rd) $25 at Otha's Coffee / 4th) the great books of cartoonist/fine artiste Avi Spivak – signed!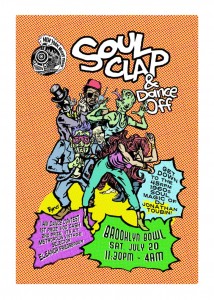 facebook event | tickets
and SUNDAY,… baby don't ya wanna go?
07/21 Chicago – Empty Bottle: Official Pitchfork Festival Afterparty SOUL CLAP & DANCE-OFF w/Jonathan Toubin and live performances by La Luz and the Party Downers, contest with judges Mac Demarco, Jonathan Rado (Foxygen), Shirley Braha (MTV), Ratso (the puppet from Chica Go Go), and more, 8pm-1:30am, $7 the world's most popular soul 45 party! all night 1960s soul dance with a brief dance contest for $100 cash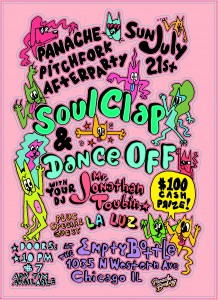 facebook | tickets
(ticket special: both the Friday Zeros show and the Sunday Soul Clap together for $20)
and back THURSDAY to honor 20 years of BUST…
07/25 Brooklyn – The Bell House: BUST Magazine 20th Anniversary Party with Cibo Mato, Har Mar Superstar, JD Sampson, AWKWAFINA, Jessi Klein, Vanessa Bayer, Broad City, AMber Tamblyn, David Cross, Mr Murray Hill, Kathleen Hanna, Gloria Steinem, Jean Grae, Lizz Winstead, and dance party by Jonathan Toubin, 7:30 – 1:30AM, $35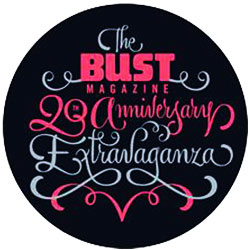 facebook event | tickets and info
UPCOMING NITE TRAINING:
– 07/26 New York, NY – Home Sweet Home: Shakin' All Over w/JT
– 07/27 Brooklyn – Union Pool: Union Pool Summer Thunder NY Night Train Party on the Patio w/Turbo Fruits, Andy Animal Family Band, Mighty Fine, Josh Styles, and Jonathan Toubin
and… a few August highlights…
– 08/03 JT at the Museum of Fine Arts in Houston
– 08/04 Brooklyn – Brooklyn Bowl: NY Night Train "In The Summertime" Party w/MUNGO JERRY, Apache, White Mystery, dancing w/JT and friends, and more…
– 08/10 Vancouver BC Soul Clap and Dance-Off
– 08/17 Brooklyn – Brooklyn Bowl: Soul Clap and Dance-Off
– 08/24 Stockholm, Sweden Brooklyn Brewery Mash Soul Clap and Dance-Off
– 09/01 Detroit, MI – Old Miami: Soul Clap and Dance-Off w/JT