by nynt on January 19th, 2017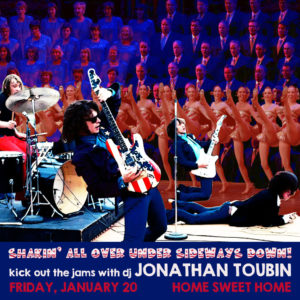 Friday, January 20 New York, NY – Home Sweet Home: Shakin' All Over Under Sideways Down! w/Jonathan Toubin: Kick out the jams to Jonathan Toubin's burning 45rpm get down wax! Cracklin' transmissions from the old weird America all the way to your hula hips and shakin' shoulders! Let it out to raw restless railroad beat of supreme 1950s/1960s "maximum rock'n'soul" relentlessly rotating in its o.g. 45rpm black vinyl party platter glory all night long! This machine kills fascists…
facebook event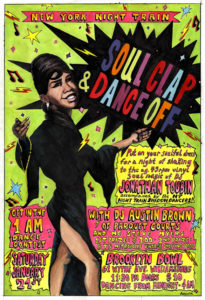 Saturday, January 21 Brooklyn, NY – Brooklyn Bowl – NY Night Train Soul Clap and Dance-Off w/Jonathan Toubin and the NY Night Train Shadown Dancers, Parquet Courts' Austin Brown, Mighty Fine's Steve Myers, etc. 11pm doors, 12pm-4am dancing, 1am contest, 21+, $10: Shake the trump from your rump as thee world's favorite soul party returns to Brooklyn Bowl for a night of soul transcendence, sonic fireworks, dance, and visuals! Get down between Midnight and 4am to the o.g. 45rpm vinyl soul stimulation of DJ Jonathan Toubin accompanied by the kinetic illumination of NY Night Train Shadow Dancers Dee Dee Dame and Erin Sheehy… Get in the cathartic and communal 1AM DANCE-OFF – determined by a fair democratic process where the candidate who gets the most votes wins… 1st prize is $100 and 2nd is a $75 Metropolis Vintage Gift Certificate! With DJ Austin Brown of Parquet Courts, MC Steve Myers of Mighty Fine, and determined by the following distinguished panel of judges: Breanna Barbara, Caroline Shadood (Mute Records), Christiana Bartolini (Daptone Records), Joe Thomas and Kori Adefunmi (legendary nyc security to the stars), L.A. Solano and Mike Brandon (Mystery Lights), and OJ San Felipe (OCDPP/Chorizo). CATCH THE CLAP!
facebook event | tickets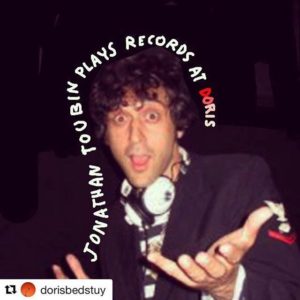 – Tuesday, January 24 Bed Stuy, Brooklyn, NY- Doris: Unexpected Pleasures with DJ Jonathan Toubin

upcoming nite training:
– Friday, January 27 New York, NY – Home Sweet Home: Shakin' All Over Under Sideways Down! w/Kid Congo Powers and special guest Baby Alcatraz (Washington, DC's Shout Bamalama)
– Friday, January 27 – 28 Alborg, Denmark – Winter Beat Fest w/Jonathan Toubin and more (info)
– Friday, February 3 New York, NY – Home Sweet Home: Shakin' All Over Under Sideways Down! w/Jonathan Toubin
– Saturday, February 4 Calgary, CA – The Palomino – NY Night Train Soul Clap and Dance-Off w/Jonathan Toubin and more (facebook event | tickets)
– Friday, February 10 New York, NY – Home Sweet Home: Shakin' All Over Under Sideways Down! w/Jonathan Toubin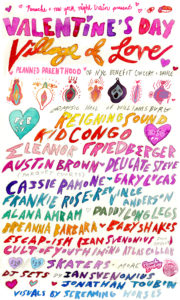 – Tuesday, February 14 Brooklyn, NY – Annual Bust / NY Night Train / Panache Valentines Day Village of Love Rock'n'Roll Review and Dance benefitting Planned Parenthood with live Reigning Sound, Kid Congo Powers, Eleanor Friedberger, Skaters, Austin Brown (Parquet Courts), Frankie Rose, Cassie Ramone, Delicate Steve, Gary Lucas, Escape-Ism (Ian Svenonius new solo project), Reverend Vince Anderson, Cult of Youth / Wind Atlas Collab, Juan Wauters, Daddy Long Legs, Baby Shakes, Alana Amram, Breanna Barbara followed by dancing with DJs Ian Svenonius and Jonathan Toubin.
facebook event | tickets

– Friday, February 17 New York, NY – Home Sweet Home: Shakin' All Over Under Sideways Down! w/Jonathan Toubin
– Saturday, February 18 Kingston, NY: NY Night Train Soul Clap and Dance-Off w/Jonathan Toubin (facebook event | tickets)
– Friday, February 24 New York, NY – Home Sweet Home: Shakin' All Over Under Sideways Down! w/Jonathan Toubin
– Tuesday, February 28 Brooklyn, NY – The Bell House: Annual Hungry March Band Mardi Gras Bash with DJ Jonathan Toubin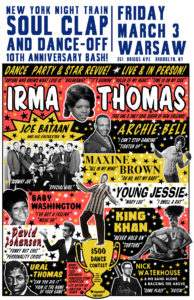 – Friday, March 3 Brooklyn, NY – Warsaw – save the date! thee biggest and best NYNT party of all time to celebrate the Soul Clap and Dance-Off 10th Anniversary with live performances by Irma Thomas, Archie Bell, Joe Bataan and His Orchestra, Maxine Brown, Young Jessie, Baby Washington, Ural Thomas & the Pain, David Johansen, King Khan, Nick Waterhouse and The Tarots, and special surprise guests! Accompanied by the New York Night Train Shadow Dancers! Also get in the $500 Metropolis Vintage Dance-Off!
facebook event | tickets

– Saturday, March 4 Brooklyn, NY – Baby's All Right: NY Night Train Soul Clap & Dance-Off 10th Anniversary Weekend surprise gig with DJs in the front and live music in the back!