by nynt on September 8th, 2017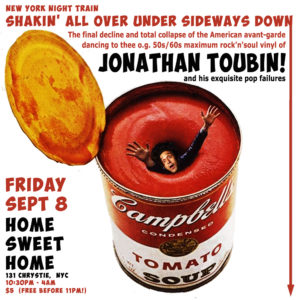 Friday, September 8 New York, NY – Home Sweet Home: Shakin' All Over Under Sideways Down! w/Jonathan Toubin, 10:30pm – 4am, $5 (FREE before 11pm): Pop out!a And welcome Jonathan Toubin home from his UK tour with another non-stop all nighter! Get your kicks Friday in the cozy subterranean confines of Home Sweet Home at New York Night Train's iconic weekly Shakin' All Over Under Sideways Down fiesta! Do the wiggle to the wop bop a loo bop a lop bam boom of the world's most exciting and exquisite o.g. 1950s/1960s "maximum rock'n'soul" vinyl singles turning 'round and 'round 'til the wee wee hours! Eccentric postcards from the old weird America addressed to you in the here and now! The wild rumble way down deep below the big city after dark! NYC's longest-running weekly rock'n'roll dance and a NYC institution since 2008… Get down in the basement!
facebook event

Saturday, September 9 Long Island – Jonathan Toubin does weddings!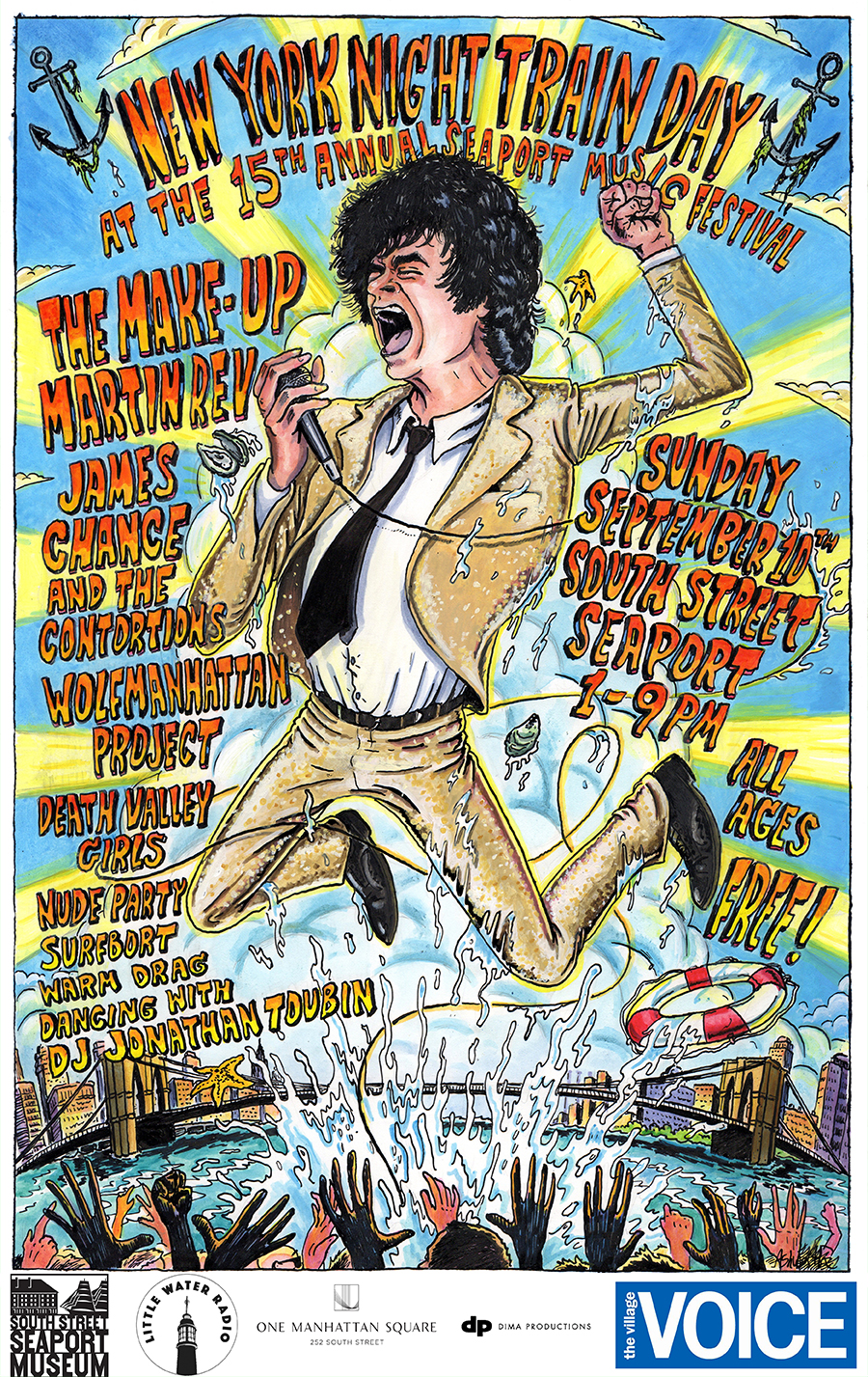 Sunday, September 10 New York, NY South Street Seaport, Pier 17: NY Night Train Day at the 15th Annual Seaport Music Festival with The Make-Up, Martin Rev, James Chance and the Contortions, Wolfmanhattan Project (Kid Congo Powers, Mick Collins, and Bob Bert), Death Valley Girls, The Nude Party, Surfbort, and Warm Drag, 1pm-9pm, FREE! The Seaport Music Festival celebrates their 15th Anniversary by inviting Jonathan Toubin to curate a day at their legendary event! Toubin assembled a bunch of his favorite people and bands for an uncommon approach to festival curation and a party like no other! The bands play on Pier 17 in front of the Seaport Museum's historic ships with views of the Brooklyn Bridge and Brooklyn skyline… And the weather looks amazing! Make a day of it! amazing poster by Phil Ashworth!
1:00 PM – DOORS
2:00 PM – Warm Drag the NYC introduction of the new L.A. band with Vashti Windish of K-Holes & Paul Quattrone of Thee Oh Sees)
2:45 PM – Surfbort brace yourself for NYC's wildest ride with Dani Miller and the gang!
3:30 PM – Death Valley Girls "A gift to the World" (Iggy Pop on BBC, 2017)… L.A. psychedelic witch rockers on Burger Records featuring yr NYC buds Alana Amram and Bonnie Bloomgarden!
4:15 PM – The Nude Party Boone, NC's rock'n'revellers have moved to a farm upstate and have been taking NYC by storm all summer… Experience what the hubbub is all about!
5:00 PM – The Wolfmanhattan Project new In The Red Recordings supergroup with Kid Congo Powers, Mick Collins, and Bob Bert!
5:45 PM – James Chance and the Contortions Contort yourself to the dynamic o.g. no wave sax maniac and his downtown all-star band
6:45 PM – Martin Rev Suicide's eclectic, fun, and unique composer/electronic wiz/icon is guaranteed to 1) wear big sunglasses, 2) take you places you didn't expect to go!
7:45 PM – The Make-Up thee explosive gospel ye ye sound verite is back and better than ever with original members Ian Svenonius, Michelle May, and James Canty with the welcomed addition of Pink Monkey Bird Mark Cisneros on drums! Here Comes the Judge! say YEAH!
facebook event



Sunday, September 10 (late) New York, NY – Home Sweet Home: Official Afterparty for NY Night Train Day at Seaport Music Festival with Baby Alcatraz, Eric Davidson, Mark Cisneros, and more, 10pm – LATE, FREE: After the fireworks pop up to Home Sweet Home to celebrate a perfect day and the end of a killer weekend at Seaport Music Festival's 15th Anniversary! Drink, dance, and mingle with yr peeps to the sounds of A-list 45 dee jays Baby Alcatraz (Washington, DC's Shout Bamalama), Eric Davidson (New Bomb Turks), Mark Cisneros (The Make-Up), and lotsa special secret surprises. Thee place to be!… Fo Shizzle! Come hang!
facebook event



upcoming nite training:
– Friday, September 15 New York, NY – Home Sweet Home: Shakin' All Over Under Sideways Down! w/Jonathan Toubin (facebook event)
– Saturday, September 16 Miami, FL – Gramps: NY Night Train Soul Clap and Dance-Off w/Jonathan Toubin and more (facebook event)
– Friday, September 22 New York, NY – Home Sweet Home: Shakin' All Over Under Sideways Down! w/Jonathan Toubin (facebook event)
– Saturday, September 23 New York, NY – Baby's All Right: NY Night Train Soul Clap SANS Dance-Off w/Jonathan Toubin, the NY Night Train Shadow Dancers, and more (facebook event)
– Friday, September 29 New York, NY – Home Sweet Home: Shakin' All Over Under Sideways Down! w/Jonathan Toubin (facebook event)
– Saturday, September 30 Dallas, TX – Midnight Rambler: 3rd Anniversary Party w/NY Night Train Soul Clap and Dance-Off w/Jonathan Toubin

further on down the road:
– Friday, October 6 New York, NY Irving Plaza: Low Cut Connie, Sweet Spirit, Daddy Long Legs, and Jonathan Toubin
– Sunday, October 8 New Orleans, LA – Poor Boys: Ponderosa Stomp Hangover Party Soul Clap & Dance-Off w/JT, Bob Log, and more
– Saturday, October 14 Brooklyn, NY – Secret Project Robot: Polyglot Discotheque w/Jonathan Toubin, Josh Styles, and more
– Saturday, October 21 Toronto, ON: NY Night Train Soul Clap and Dance-Off w/Jonathan Toubin
– Wednesday, October 25 Chicago, IL – The Hideout: NY Night Train Haunted Hop haunted house and multimedia dance party w/Kid Congo and the Pink Monkey Birds, Jonathan Toubin, and more
– Thursday, October 26 Detroit, MI – Third Man: NY Night Train Haunted Hop haunted house and multimedia dance party w/Kid Congo and the Pink Monkey Birds, Jonathan Toubin, and more
– Friday, October 27 Columbus, OH – Double Happiness: NY Night Train Haunted Hop haunted house and multimedia dance party w/Kid Congo and the Pink Monkey Birds, Jonathan Toubin, and more
– Friday, October 28 Pittsburgh, PA – Spirit Lodge: NY Night Train Haunted Hop haunted house and multimedia dance party w/Kid Congo and the Pink Monkey Birds, Jonathan Toubin, and more
– Sunday, October 29 Washington, DC – Comet Ping Pong: NY Night Train Haunted Hop haunted house and multimedia dance party w/Kid Congo and the Pink Monkey Birds, Jonathan Toubin, and more
– Monday, October 30 Philadelphia, PA – Johnny Brenda's: NY Night Train Haunted Hop haunted house and multimedia dance party w/Kid Congo and the Pink Monkey Birds, Jonathan Toubin, and more
– Tuesday, October 31 New York, NY – Knockdown Center: NY Night Train Haunted Hop haunted house and multimedia dance party w/Kid Congo and the Pink Monkey Birds, Jonathan Toubin, and more
– Saturday, November 4 Los Angeles, CA – Zebulon: Jonathan Toubin's NY Night Train Dance Party
– Saturday, November 11 Montreal – Bar Le Ritz: NY Night Train Soul Clap and Dance-Off w/Jonathan Toubin
– Saturday, November 18 Hudson, NY – The Half Moon: NY Night Train Soul Clap and Dance-Off w/Jonathan Toubin
– Saturday, November 25 San Francisco, CA – The Chapel: Shannon and the Clams plus NY Night Train Soul Clap and Dance-Off w/Jonathan Toubin
– Saturday, December 2 New York, NY – Brooklyn Night Bazaar: NY Night Train Soul Clap and Dance-Off w/Jonathan Toubin
– Saturday, December 9 Portland, ME – Space Gallery: NY Night Train Soul Clap and Dance-Off w/Jonathan Toubin
– Friday, December 15 Houston, TX – Fistful of Soul Anniversary Party
– Saturday, December 16 Austin, TX – Hotel Vegas: NY Night Train Soul Clap and Dance-Off w/Jonathan Toubin
– Sunday, December 31 – Home Sweet Home: NY Night Train New Years