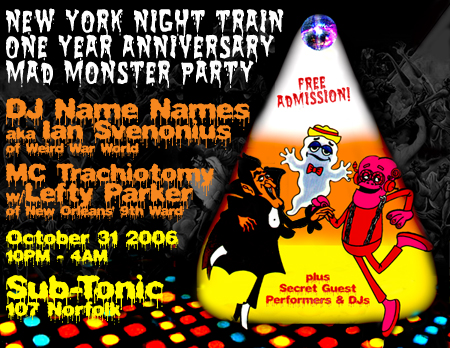 New York Night Train One-Year Anniversary
Mad Monster Party
HALLOWEEN 2006
10 pm - 4 am
FREE!
New York Night Train is celebrating its first anniversary on Halloween with a dance party at Sub-Tonic. DJ Name Names (AKA Ian Svenonius of Weird War World) will be spinning all night long. MC Trachiotomy and Lefty Parker will stage a rare NYC performance. And a slew of New York Night Train friends and family will be making guest performances and DJ appearances from the evening deep into the morning. The entire event is free to the public. Throw your costume on and come on down...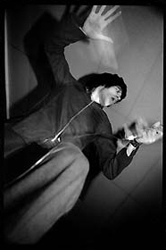 Aside from being one of the east coast's most exciting party DJs, Ian Svenonius is a rock star, a man of letters, and, of late, a television personality. Ian has been the leader of Nation of Ulysses, Cupid Car Club, Make-Up, David Candy, The Scene Creamers, and, most recently, Weird War. As of late, Sassy Magazine's "Sassiest Boy in America" has also grown into an essayist who is as well known for his prose as for his music since the publication of his first collection of essays, The Psychic Soviet, on Drag City this year. Finally, Ian is the moderator for Vice TV's new talk show Soft Focus - interviewing the likes of Chan Marshall, Henry Rollins, Genesis P-Oridge, Will Oldham, Ian McKaye, and Andrew W. Kaye. Ian has DJ-ed all over the world with his unpredictable and eclectic, yet kinetic sets that consist of rare soul 45s, yeah yeah, lost soundtracks, disco obscurities, etc. Expect a spooky bootie theme tonight.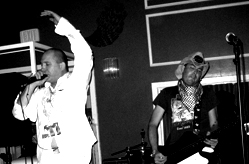 MC Trachiotomy and Lefty Parker have been keeping New Orleans pumping for some time now. Italian philosopher Pierre Scaruffi, in his History of Rock Music, describes MC Trachiotomy's recorded work as defining "a territory straddling rap, spoken-word, psychedelic rambling, Captain Beefheart-ian wackiness, lo-fi pop and the Residents' new-wave… The musical equivalent of a hurricane, sweeping away swamp blues, freeform jamming, reggae balladry, hip hop, etc. The comedian indulges in spoofs of spy-thriller cocktail muzak, 1940s' big-band swing, Broadway show tunes, and soft-night-jazz." His two upcoming New York Night Train releases are collaborations with Mr. Quintron, Rowdy Life and RatsLiveOnEvil Star. Lefty Parker is the bassist for The Interlopers (who released first post-Katrina record in the city on Rhinestone Records), a four-year member of the Ninth Ward Marching Band, manager ofthe infamous Circle Bar, and produces, records, and/or masters the recordings of a host of Ninth Ward performers - most noteably Mr. Quintron and Miss Pussycat and MC Trachiotomy. He's also designed record covers for everyone in town - including his late great friend Ernie K-Doe. Both spent Katrina performing heroic deeds in New Orleans and never left. Tonight is more than Halloween but also a is also a regional holiday that residents of the Big Easy prefer to call, unambiguously, "Lefty Parker's Birthday."