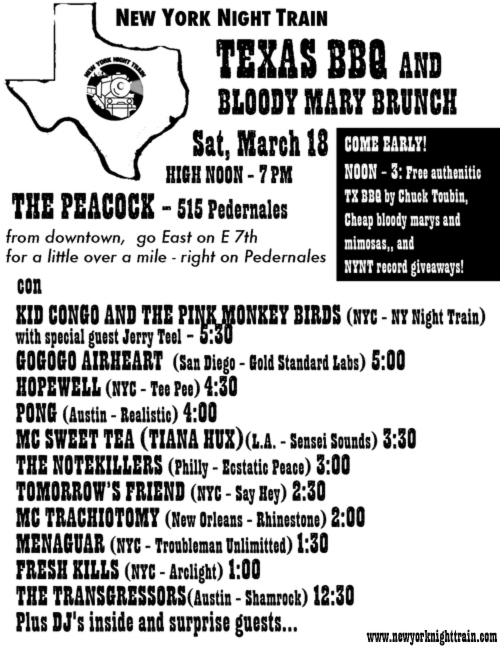 New York Night Train proudly presents a number of the best bands in the country playing short sets on Saturday, March 18 in the classy confines on Austin's newest spot, The Peacock (515 Pedernales). So get up early for some hair of the dog and some of my dad's famous centra Texas BBQ... and hang out all day for free to check out more in one day than running around all week long:
Kid Congo and the Pink Monkey Birds is Kid Congo Powers (ex-Nick Cave and the Bad Seeds, Cramps, Gun Club, etc) with a New York all-star backing band. Here they will be playing a short set of Kid's hits and then Jerry Teel of Pussy Galore, Boss Hog, and Honeymoon Killers will join in for some Knoxville Girls songs - played by, if you add guitarist Jack Martin and Kid, 3/5 of the legendary Knoxville Girls.
GoGoGo Airheart's Rats! Sing! Sing! on Gold Star Labs was definitely one of last year's best records. GoGoGo has been perfecting their unique and well-executed bouncy, sometimes Krauty and sometimes dubby take on art punk for over a decade and are a live force to be reckoned with.
Orignally the side project of Mercury Rev bassist Jason Russo, Hopewell has been a full-time touring and recording machine since bringing their beautiful and intricate psychedelic compositions to Tee Pee Records last year. Another one of the best bands going...
The phoenix that rose from the ashes of the Austin's incomperable Ed Hall, Pong's multimedia enslaught has kept them sittin' on the top of the Austin rock heap for quite some years now. Hi-fi sci-fi for yr ears, nose, throat, and booty.
The Notekillers are a relatively obscure instrumental band from Philadelphia circa1977 to 1981 who've since come into prominence since Thurston Moore's Ecstatic Peace label put out their record last year (the band's 1980 single "The Zipper" was a big influence on Sonic Youth). A welcomed twenty-first century return...
Best known for his work with Mr. Quintron and Miss Pussycat, bizarre New Orleans Ninth Ward rapper MC Trachiotomy's been weirding people out around the globe since his days in Crash Worship in the 1990s. Everybody knows what he knows unless you don't...
Meneguar, whose I Was Born At Night CD was just picked up and re-released on Troubleman Unlimitted Records, stands out with some of the best musicianship, songwriting, and lyrics of their genre. Catch 'em on their way up...
Tommorow's Friend, the psychedelic project of Brooklyn singer/songwriter/guiarist Allessandra Maria, is one of New York's most happening bands with a new 12" wax slab on Say Hey Records this month. You just have to go if you want to know whether it'll be ten pieces or a stripped down du-o.
MC Sweet Tea, otherwise known as Tiana Hux, is a witty and fluid rapper reporting her twisted tales from the gritty trenches of gender politics, labor, and misguided wardrobe choices. A New Orleans musician exiled in L.A., she's best known around Austin for her years there as a film-maker, actress (The Waking Life) , performance aritst, and underground rock drummer.
Led by poet/New York celebrity sidekick Zachary Lipez, backed by a twin guitar assault and one of the Brooklyn's finest rhythm sections, Fresh Kills are contemporary while finding a vital intersection of 1970s, 1980s, and 1990s subcultural rock lineages.
The Transgressors are a post-modern Western rock band led by two massive forces in Austin underground music, J. R. Keyton and Chad Nichols. Nichols, known for his superb bass work for everybody for about a decade, took over the vocals, and left the guitar to J.R., who's become one of the best rifle-slingers in a town of string diddlers. Get there early for this - they sound like a Mutiny-era Birthday Party for Ennio Morricone, Bobby Fuller, and a cast of ghost riders - in the sky that is...