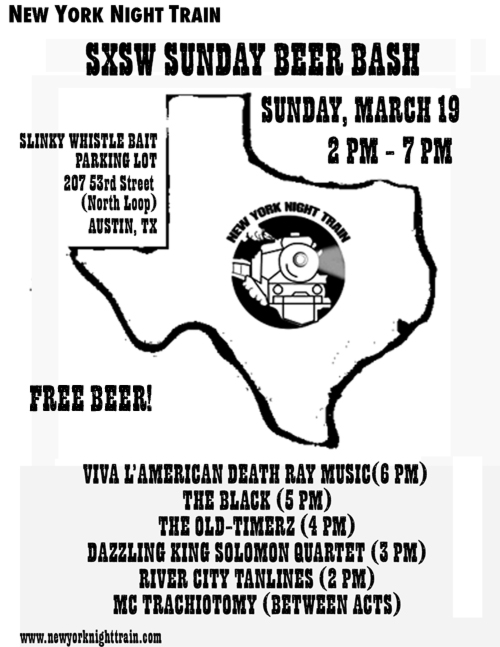 New York Night Train proudly presents a few of the best artists from Austin and around the way in the parking lot of the vintage boutique Slinky Whistle Bait.
While Viva l'American Death Ray consists of three former members of Memphis garage legends 68 Comeback, and their music certainly consists of garage and r&b elements, their raw sound has branched out to encompass glam, no wave, and dub. After records for Sympathy for the Record Industry, still evolvong and still one of the best and most unique things out there.
The Black are the first of the hundreds of "black"-named bands to just omit the next word or two. Additionally, they feature three members of Trail of Dead's touring band and play very sophisticated classic pop.
In addition to members of Zom Zoms and the Telephone Company, The Old-Timerz also feature Austin legend-in-his-own-mind (and mine), Chris Lyons - the voice and wordsmith of the Prima Donnas an Gene Defcon. Affilliated with the mythical Business Deal label, these old folks describe their sound as "bad Herman's Hermits."
The Dazzling King Solomon Quartet are Austin's best kept secret. In fact, they're so underground that you won't find their name even if you google it. Sure, I could tell you about all of the well known local musicians in the band or try to describe their sound, but then they wouldn't really be a secret - would they?
Led by Alicja from Lost Sounds, Memphis' River City Tanlines also feature the rhythm section of T-Money on bass and Bubba who'se played with everyone from R.L. Burnside to Dale Hawkins. This dirty Memphis r'n'r has more seven-inch singles than Vietnam has hair.
Best known for his work with Mr. Quintron and Miss Pussycat, bizarre New Orleans Ninth Ward rapper MC Trachiotomy's been weirding people out around the globe since his days in Crash Worship in the 1990s. Everybody knows what he knows unless you don't... Trachio will be layin' down his rhymes and introducing the bands.