"Widely acknowledged as the mother of all soul jams" - Time Out New York
"New York's best DJ" (VICE/Noisey)
"The most-liked man in the soul music scene" Rolling Stone
"The best soul DJ in the land" - Flavorpill
"New York Night Train's Jonathan Toubin throws the raddest underground rock parties in New York" - Paper Magazine
"DJ Jonathan Toubin is creating his own kind of dance revolution" - Village Voice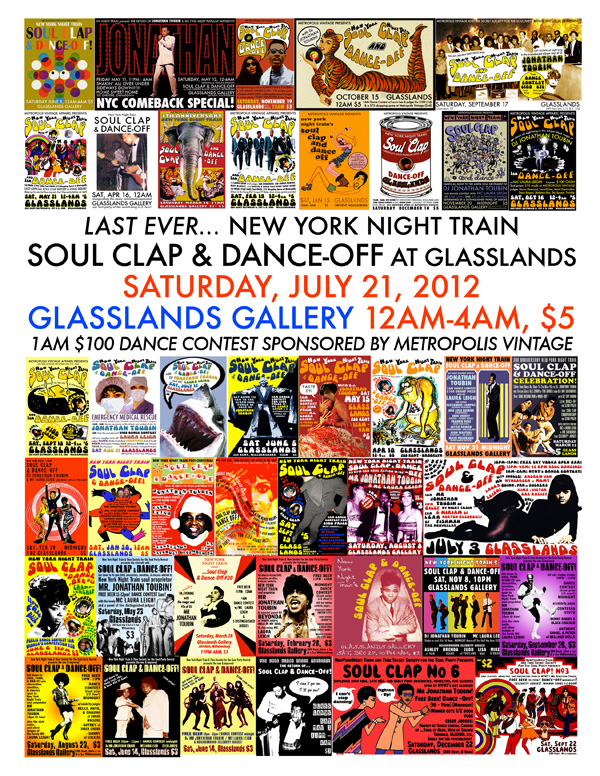 With nearly 1,000 paid monthly in Brooklyn and selling out dozens of international markets annually, New York Night Train's SOUL CLAP AND DANCE-OFF is by far the world's most popular soul party and 45 party. The concept is simple - all night dancing to the exciting and exquisite 1960s soul 45s of world famous 45rpm rock and soul DJ Mr. Jonathan Toubin and, in the middle, a short dance contest determined by a community panel of judges. This NYC tradition since 2007 is also global recession-friendly mass entertainment with a universally inexpensive door price. Catch The Soul Clap!
"A legend among Lower East Side entertainers and fans" ABC News
"Jonathan Toubin is the only person we can call a "professional DJ" without involuntarily making a jack-off motion with our hand.... his parties are like what Ancient Stonehenge was like if it was, as archaeologists theorize, filled with people dressed many times better than you completely losing their shit." - VICE
"Toubin is trying to bring a sense of community back to nightlife, fighting against the alienation that's seeped into cool culture. And if there's anyone who can do it, it's Toubin, soaked in charisma, honestly able to tout grandstand titles like America's Favorite Soul Dance DJ" NY Press
"Jonathan Toubin might be the crown prince of American soul-funk DJs. Obsessed with obscure 45s from the '50s and '60s, the New York icon aims to produce the energy and pacing of a modern club night, but with gritty, raw tunes that almost no one except a few crazed collectors and spinners have heard before." SF Weekly
"Toubin is the most popular, prolific and highest-earning DJ of his kind in America" Digital Journal, Toronto
"DJ Mr. Jonathan Toubin is known for single-handedly revamping NYC nightlife with his fun/sweaty New York Night Train Soul Clap dance parties" (Portland Mercury)
"A shimmy-worthy mix of maximum rock'n'soul" - New York Post
"DJ Jonathan Toubin spins the 45s. The mid-'60s to early-'70s r&b and funk will have you dancing with the stars." - Village Voice
"New York's premier dusty 45 party, attracting rockers, mods and dandies alike." - Time Out Chicago
"Genius" - Josiah Hughes, Exclaim!
"An eve of 45-rpm soul sizzlin' and expressive dance." - LA Weekly
""It's a goddamn national treasure!" - Portland Mercury
"The Soul-Clap is a party without parallel where you'll experience dance hysteria and soul grooves you'll never hear again." - Detroit Metro-Times
UPCOMING SOUL CLAP & DANCE-OFF PARTIES:

May 1: Baltimore, MD - Metro Gallery presented by Brooklyn Brewery Mash
May 3: Liege, Belgium - La Zone
May 4: London, UK - Yeah Yeah Yeahs-curated All Tomorrow's Parties "I'll Be Your Mirror":
May 9: Paris, France – Nouveau Casino with Monsters
May 10: Basel, Switzerland: Das Schiff
May 11: Zurich, Switzerland: Club Gonzo
May 12: Lyon, France – Nuits Sonores Festival
May 14: Bordeuax, France – I-Boat with Thee Oh See's
May 17: Milan, Italy - Biko
May 18: Ravenna, Itally – Hanna Bi
May 19: Venice, Italy – Guilty Boat Party Festival
May 21: Strasbourg, France – La Laiterie with Nick Waterhouse
May 22: Amsterdam, Netherlands – Paridiso with Jacco Gardener
May 23: London, UK: Shackewell Club
May 24: Glasgow, UK: Nice'n'Sleazy
May 29: Berlin, Germany: The Monarch
May 31: Stockholm, Sweden: Lilla Hotellbaren 
June 1: Gothenburg, Sweden:
June 15: Brooklyn, NY - Brooklyn Bowl with The Gories and Daddy Long Legs
June 20: Minneapolis, MN - Turf Club presented by Brooklyn Brewery Mash
June 29: Asbury Park, NJ - Asubry Lanes
July 5: New York, NY - Lincoln Center Midsummer Night's Swing w/Young Jessie
July 6: Oakland, CA - Burger Boogaloo w/Jonathan RIchman, Redd Kross, Oblivians,etc


OTHER PARTIES FEATURING DJ JONATHAN TOUBIN:
Fridays: New York, NY - Home Sweet Home: Shakin' All Over Under Sideways Down 45rpm Maximum Rock & Soul Dance
June 6: Brooklyn Fort Greene Park: Summerstage presents JT with Ty Segall's Fuzz
Jun

,

Follow New York Nght Train on
Twitter (https://twitter.com/NY_Night_Train),
Facebook (http://www.facebook.com/pages/New-York-Night-Train/47167209984)
join the mailing list: mailinglist-at-newyorknighttrain.com
Book Mr. Jonathan Toubin, the Soul Clap and Dance-Off, or any other NY Night Train party
in the United States contact Michelle Cable at Panache Booking
for Europe conact Buzz at U-Turn Touring
for publicity materials, interviews, etc contact: Blake at Blake Zidell and Associates

Listen to JT's "NY Night Train Soul Clap Classics" mixes here.
Read Soul Clap/Jonathan Toubin press here.
Find Mr Jonathan Toubin's promotional pictures for print and online here.