NEW YORK NIGHT TRAIN SOUL CLAP and DANCE-OFF


WHAT IS IT? With nearly 1,000 paid monthly in Brooklyn and selling out dozens and dozens of international markets annually, New York Night Train's SOUL CLAP AND DANCE-OFF is by far the world's most popular soul party and the world's most popular 45 party. The concept is simple - all night dancing to the exciting and exquisite original 1960s soul records of world famous 45rpm rock and soul DJ Mr. Jonathan Toubin and, in the middle, a short dance contest determined by a community panel of judges. This NYC tradition since 2007 is also global recession-friendly mass entertainment with a universally inexpensive door price. Catch The Soul Clap!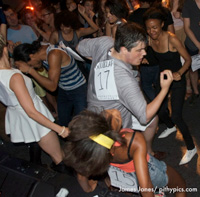 WHY IS TONIGHT DIFFERENT THAN ALL OTHERS? Because New York Night Train, Jonathan Toubin, and the Soul Clap emerged from a juncture of Williamsburg/Lower East Side art, punk, and general bohemian rock and roll, the DJ, the party, and the music organically grew along with the dancers - following no blueprint of any specific subcultural tradition (northern soul, mod, etc). Toubin began playing obscure 1960s soul 45s for his immediate social circles rather than soul fans - converting party-goers to the religion of the raw power of his favorite genre of dance music without the musical or cultural preconceptions that traditionally go along with soul connoisseurship - learning the power of his records along with his dancers through trail and error. His public, an odd conglomeration of Williamsburg artists and musicians, rock and roll fans, bar flies, club kids, and other neighborhood adventure-seekers, followed his lead and helped spread the gospel. The sound mirrored its unpretentiously random public. Since Toubin was at the time a musician, record label, and graduate student (NOT yet a professional DJ or collector of expensive records), the selections were based purely on the raw power, wild energy, feel, and danceability of the 45s - not the records' price, DJ history, or desirability as at other retro parties. Toubin's goal was to build, keep, and elevate a dancefloor with a unique, wild, and interesting sound... The Dance-Off evolved from a fun mid-party break for the DJ and his friends to an elaborate spectacle. An hour or two into the dance party, lights are turned on, numbers are put on the backs of the dancers, the judges take the stage, and a contest takes place. After the winner is determined, the lights are turned all the way off and the crowd, now bonded by the shared experience, wiggle on into the morning until the club kicks them out.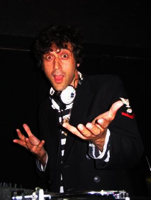 NEW YORK NIGHT TRAIN CONDUCTOR AND SOUL PROPRIETOR MR JONATHAN TOUBIN has been shattering the face of nightlife first in the wormy apple and next the world with his revolutionary parties and unique approach to his trademark 45rpm "maximum rock and soul" sound. Tirelessly chugging deep into morning after morning, in over 1600 gigs the last seven years, sometimes up to four gigs per night, the DJ has popped up everywhere from dive bars to underground live music venues to art spaces to giant discos to major rock festivals in the US and Europe. Years of nightly work with mixed crowds of all shapes and sizes made Toubin the DJ he is today - pitching, EQ-ing, and assembling cuts with a fluid beat consciousness and peppering the mix with surprising twists and turns, gospel screaming, and other tension builders and momentum-gathering devices - all as a part of his improvised dialogue with his dancers. In deliberate contrast to the retropolis of dusty musty collector night on one table, and the thin toneless generic sound of mp3 hit parties on the other, the uniquely unpretentious timelessness of Toubin's big soul sound pulls together unlikely combination of folks from all over the cultural rainbow looking for an alternative to the usual - a uniquely, supreme, and colorful experience. Decidedly fresh and alive enough to exist outside of the retro world, but way too cool to be of our times, the punchy roll of Jonathan Toubin's post-modern 45rpm beat collage employs lost sounds in a contemporary context - rescuing choice unheard artifacts from vaults and museums and employing them to spice up all today's parties! You will find the DJ and his sound where the wild things are - NOW!
Go hear to read his full bio...
(https://twitter.com/NY_Night_Train),
Facebook (http://www.facebook.com/pages/New-York-Night-Train/47167209984)
join the mailing list: mailinglist - at - newyorknighttrain.com
Book Mr. Jonathan Toubin, the Soul Clap and Dance-Off, or any other NY Night Train party
in the United States contact Michelle Cable at Panache Booking
in Europe, contact Clemence Renaut at Elastic Artists: clemence@elasticartists.net

Listen to Jonathan Toubin's NY Night Train Soul Clap Classics Vol. 3
Read Soul Clap/Jonathan Toubin press here.
Find Mr Jonathan Toubin's promotional pictures for print and online here.