NEW YORK NIGHT TRAIN SOUL CLAP and DANCE-OFF


WHAT IS IT? New York Night Train's Soul Clap and Dance-Off is North America's most popular 21st Century soul party − by far playing to more people in more places and generating more capital than any of its contemporaries. The concept is simple - all night dancing to the wild original soul 45s of subterranean superstar NYC DJ Mr. Jonathan Toubin and, in the middle, a $100 dance contest judged by a panel of local personalities. Recession-friendly mass entertainment with a low door price, the dance party/spectacle not only sells beyond capacity at home, but brings its excitement to domestic markets all the way from Portland, Oregon to Portland, Maine and internationally from Tel Aviv to Mexico City - including former monthly residencies in New York, Chicago, LA, San Francisco, Oakland, and PDX. Also the Dance-Off portion features judges from every edge of music and culture from classic subcultural icons like Mike Watt and Jello Biafra, to rock stars Andrew Van Wyngarden (MGMT) and Nick Zinner (Yeah Yeah Yeahs), to interesting cultural figures like Karla LaVey (Satanic Priestess) and Matt Gonzalez (Green Party Vice Presidential Candidate) to your favorite neighborhood heroes. Catch The Soul Clap!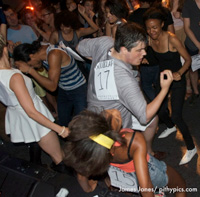 WHY IS TONIGHT DIFFERENT THAN ALL OTHERS? Because New York Night Train, Mr. Jonathan Toubin, and the Soul Clap emerged not from a specific mod / soul / retro culture but rather from an organic juncture of the Williamsburg/Lower East Side art, punk, and general bohemian rock and roll underground, the party grew as a uniting force for various subcultural groups and followed no specific tradition. Toubin began playing obscure soul 45s for these social circles rather than soul fans - converting non-believers to the religion of the raw power of his favorite genre of music without the musical or cultural preconceptions that traditionally go along with soul connoisseurship - learning about the power of his records along with his dancers. Thus by a combination of necessity (limited cash to buy records), unique personal aesthetics, and a pragmatic improvisational situation, the selections were a more unusual mix than the typical fare of a northern soul, mod, rare groove funk, new breed r&b, or other retro specialty night. Nightly work with mixed crowds also developed Toubin's approach to DJ-ing - soon he was pitching, EQ-ing, and assembling cuts with a fluid beat consciousness and peppering the mix with surprising twists and turns, gospel screaming, and other tension builders and momentum-gathering devices. In deliberate contrast to the retropolis of dusty musty collector night on one table, and the thin toneless generic sound of mp3 parties on the other, the uniquely unpretentious timelessness of Toubin's big soul sound pulls unlikely combination of folks from all over the cultural rainbow. In addition to these unusual crowds, subcultures, and social scenes, Jonathan Toubin and his famous party have over time also gradually become an institution in the international soul community as well. While Soul Clap's mission is to get both the rock underground, art, and club scenes dancing together to the finest raw action-packed records you've never heard, it is simultaneously breathing new life back into these superior underappreciated recordings in the name of FUN!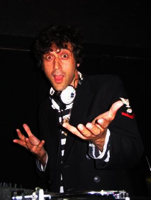 NEW YORK NIGHT TRAIN CONDUCTOR AND SOUL PROPRIETOR MR JONATHAN TOUBIN shattered the face of nightlife in the wormy apple and next the world with his revolutionary parties and unique approach to his trademark 45rpm "maximum rock and soul" sound. Tirelessly chugging deep into morning after morning, in over 1200 gigs the last six years sometimes up to five gigs per night, the DJ has popped up everywhere from dive bars to underground live music venues to art spaces to giant discos to festivals like SXSW, ATP, CMJ, NXNE, Pop Montreal, Sled Island, Fun Fun Fun, Chaos in Tejas, Lincoln Center Out of Doors, Music Fest Northwest, Ponderosa Stomp, etc., from Mexico to Israel. Decidedly fresh and alive enough to exist outside of the retro world, the punchy roll of Jonathan Toubin's post-modern 45rpm beat collage employs unknown old records in a contemporary context - removing the most immediate artifacts from the totality of unheard music's past to enliven the all today's parties - where the wild things are - NOW!
Go hear to read his full bio...
Follow New York Nght Train on
Twitter (https://twitter.com/NY_Night_Train),
Facebook (http://www.facebook.com/pages/New-York-Night-Train/47167209984)
join the mailing list: mailinglist-at-newyorknighttrain.com
Book Mr. Jonathan Toubin, the Soul Clap and Dance-Off, or any other NY Night Train party
in the United States contact Michelle Cable at Panache Booking
for Europe conact Buzz at U-Turn Touring
for publicity materials, interviews, etc contact: Blake at Blake Zidell and Associates
Listen to Mr. JT's "NY Night Train Soul Clap Classics Volume 1" mix here