NEW YORK NIGHT TRAIN SOUL CLAP and DANCE-OFF


WHAT IS IT? With nearly 1,000 paid monthly in Brooklyn and selling out dozens and dozens of international markets annually, New York Night Train's SOUL CLAP AND DANCE-OFF is by far the world's most popular and prolific soul party and the world's most popular 45 party. The concept is simple - all night dancing to the exciting and exquisite original 1960s soul records of world famous 45rpm rock and soul DJ Mr. Jonathan Toubin and, in the middle, a short dance contest determined by a community panel of judges. This NYC tradition since 2007 is also global recession-friendly mass entertainment with a universally inexpensive door price. Catch The Soul Clap!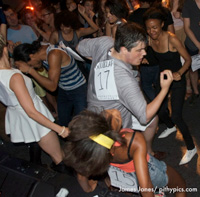 WHY IS TONIGHT DIFFERENT THAN ALL OTHERS? Because New York Night Train, Jonathan Toubin, and the Soul Clap emerged from a juncture of Williamsburg/Lower East Side art, punk, and general bohemian rock and roll, the DJ, the party, and the music organically grew along with the dancers - following no blueprint of any specific subcultural tradition (northern soul, mod, etc). Toubin began playing obscure 1960s soul 45s for his immediate social circles rather than soul fans - converting party-goers to the religion of the raw power of his favorite genre of dance music without the musical or cultural preconceptions that traditionally go along with soul connoisseurship - learning how to use his records along with his dancers through trail and error. His public, an odd conglomeration of Williamsburg artists and musicians, rock and roll fans, bar flies, club kids, and other neighborhood adventure-seekers, followed his lead and helped spread the gospel. The sound mirrored its unpretentiously random public. Since Toubin was at the time a musician, record label, and graduate student (NOT yet a professional DJ or collector of expensive records), the selections were based purely on the energy, feel, and danceability of the 45s - not the records' price, DJ history, or desirability as at other retro parties. Toubin's goal was to build, keep, and elevate a dancefloor with a unique, wild, and interesting sound... The Dance-Off evolved from a fun mid-party break for the DJ and his friends to an elaborate spectacle. An hour or two into the dance party, lights are turned on, numbers are put on the backs of the dancers, the judges take the stage, and a contest goes on for roughly 30 minutes. After the winner is determined, the lights are turned all the way off and the crowd, now bonded by the shared experience, wiggle on into the morning until the club kicks them out.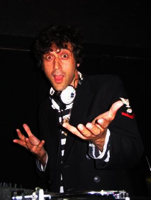 NEW YORK NIGHT TRAIN CONDUCTOR AND SOUL PROPRIETOR MR JONATHAN TOUBIN, who Vice Magazine proclaims is "the only DJ we actually like" and Rolling Stone says is "the most liked man in the soul music scene," was just named 2015's"Best DJ" in the 60th anniversary Village Voice "Best of NYC" issue. In over 2000 gigs in the last nine years, Toubin has gone where no soul DJ has gone before - tirelessly hitting hundreds of nightclubs on five continents and, in recent years, dozens of major music festivals - everywhere from All Tomorrows Parties (five times) to Bonnaroo to practically every major European music festival. His Soul Clap and Dance-Off is the only party to get an entire official night of showcase dedicated to it at Austin's South By Southwest (where it has been the official closing party four times) and the only DJ dance party to get its own night at Lincoln Center's Midsummer Night's Swing. Not only was Toubin the first 45 DJ with Burger Records cassettes, but he's also the first living DJ with compilations on the legendary Norton Records - with four "Souvenirs of the Soul Clap" LPs released internationally in the last year. Toubin has achieved all this and more without playing any fashionable contemporary genre. And by turning literally no hits. And apart from any preexisting subculture - soul or otherwise. Jonathan Toubin and his New York Night Train have built a unique space in contemporary culture and influenced scores of DJs and parties everywhere by cutting together raw, wild, and uncommon original 45rpm sides by unsung artists for the today's dance floor. Nightly! All around the world! Feel the fire!
Go hear to read his full bio...
Follow New York Night Train on
Twitter (https://twitter.com/jonathantoubin)
Facebook (https://www.facebook.com/newyorknighttrain/)
join the mailing list: mailinglist - at - newyorknighttrain.com

JONATHAN TOUBIN/NYNT PARTY BOOKING
jonathan not only plays the types of public events listed here but also does regular weddings, birthday parties, and corporate events

UNITED STATES:
Alisa Preisler at Ground Control Touring
alisa@groundcontroltouring.com

EUROPE:
Clemence Renaut at ATC Live
clemence@atc-live.com 

Listen to JT's " mixes on soundcloud or his NYNT DAILY PARTY PLATTER on youtube
Buy Jonathan Toubin's NY Night Train "Souvenirs of The Soul Clap" on Norton Records
Read Soul Clap/Jonathan Toubin press here.
Find Mr Jonathan Toubin's promotional pictures for print and online here.