BIOS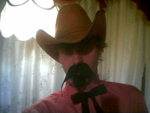 E.P., or Eric William Pierson is a Rhinestone Records recording artist, performance artist, and actor. A New Orleans native, he's also known as IMAGINE "the" BAND - "an a capella massacre, a one-man rat pack. No music just me singing, I slay and pay homage to the famous and infamous singers of pop music and the underground all in the name of pure entertainment." He currently lives in Los Angeles.
hear mp3s | view images | web links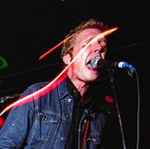 John Henry was a fixture in the Ninth Ward music scene for eleven years. While the most recent were The Detonations and Black Caar, he's also been in Sex Hunter, the Ninth Ward Marching Band, Rainbow Fannypack, The Wet Daddy Empire, The Black Dwarf, and Spider Mecanoid..
hear mp3s | view images | web links

Lefty Parker is the bassist for The Interlopers (who released first post-Katrina record in the city on Rhinestone Records), a four-year member of the Ninth Ward Marching Band,produces,records and/or masters recordings for MC Trachiotomy, Baby Rosebud, DJ Rubik, Haunted Hearts, and Mr. Quintron and Miss Pussycat - who he also does sound for on tour. He additionallysomehow finds the time to design flyers and album covers (including Ernie K-Doe's) and manage/book the Circle Bar. I wonderif he also sleeps from time to time as well.
hear mp3s | view images | web links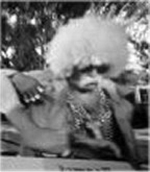 MC Trachiotomy, a frequent Quintron collaborator live and on record, and former Crash Worship singer and Ninth Ward Marching Band gong master/ bass drummer, is also a solo artist with two excellent LPs to his credit, Robot Alien or Ghost (Rhinestone, 1999) and With Love from Tahiti (Bulb, 2002), a 12"s split with the Occidental Detroits, numerous tracks on compilations around the world, and a long-awaited CD, T'n'T, with el Tonios, slated for Fall release on Rhinestone. He's also the owner, resident, and event co-ordinator for the legendary Ninth Ward party pallace/hotel, The Pearl.
hear mp3s | view images | web links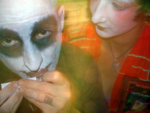 Miss O and Kid Twist play as A Particularly Vicious Rumor - a dynamic piano and drum duo. They're also both in the "old-timey new wave" band Crooks and Nannies. Both have toured extensively throughout the U.S. in the last year.
hear mp3s | view images | web links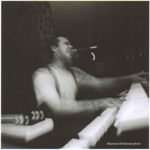 Ratty Scurvics is a local favorite who, after a time in Texas, recently moved back to New Orleans. A songwriter/one-man band, his past projects "run from jungle-punk catastrophies to play scores."
hear mp3s | view images | web links
Ninth Ward Underground feature home | New York Night Train home
© New York Night Train , 2006