by nynt on January 15th, 2007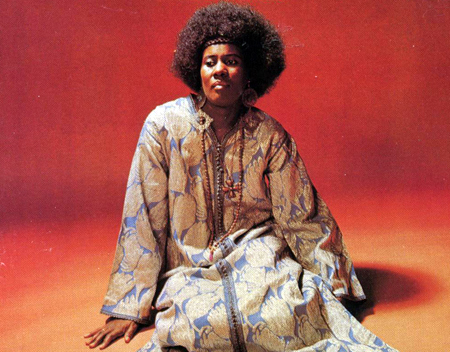 Alice
Coltrane passed on last weekend at the age of 69 as
she was becoming a more vital part of our listening experience and
overall musical consciousness than at any point in her prolific career. A top notch musician, improviser, composer, and, most of all, bandleader, striving for musical and siritual universality, her work stands taller than ever because of its uncompromising originality, emotional intensity, supreme quality, and, moreover, timelessness.
Alice Coltrane isn't only such a huge force of the Twenty-first century listening
experience because her art transcends time and place and remains contemporary, but it hasn't hurt her notoriety and legacy that, in recent years, she began performing publicly once again, made a comeback record, and had all of her albums reissued. Finally,
renewed interest in her work lies not only within the new age, avant, and jazz realms, but also, for example, a few sub-genres within the new weird eclectic indie rock underworld.
In a world where aging artists tend to either stagnate or stink fairly quickly, with few examples to provide hope for even a shred of vitality in the late period of musical careers, Coltrane's 2004 comeback, Translinear Light, is one of the best jazz albums of this
young century. Continuing where she left off a twenty-five years before, her unmistakable style of mystical blues retained all of its past integrity without turning its cheek to the present. Her playing was as powerful as ever and, though it was not means her best or most perfect record, it included a few numbers that could easily be placed beside her classic works from the late 1960s to the late 1970s.
Because of my extreme, to the point of irrational, impatience for most things new age, particularly in the sonic realm, particularly bells, harps, and other tinkly tones, Alice Coltrane was initially a hard sell. However, the lack of pretension, creativity, and excellence of her compositions, arrangements, and performances hooked me right away.
I can't tell how much of my acceptance has to do with the strong blues undercurrent, the droney atonal qualities, the heavy rhythmic and harmonic tension, strong groove, or just the exoticism of the whole enterprise – but what opened an entire world to me
was her ability to carve out strong edges within her somewhat round arpeggio-laden eastern-based spiritual arrangements by infusing them with these rougher and more challenging elements.
And, for all of her avant formalism, her entire body of solo work retains an unusually utilitarian listenablity for an artist coming from the 1960s free scene – suitable for waking up, going to sleep, dressing, undressing, the light, the darkness, work, idleness, background music, deep listening, meditation, everything…. even dancing at times.
Alice Coltrane's career is also astounding for the way in which she, the widow of one of history's top musical minds, devotedly continued down the path where he left off but also managed to escape his shadow – carving a distinct identity, achieving artistic greatness, and becoming regarded one of the leading figures in male-dominated landscape of jazz soloists, composers, and bandleaders of the early 1970s by peers, critics, and listeners. I hope that she not only will be more regularly included in discussions of late-Twentieth Century feminism, jazz or music in general, but also cited as a role model
for us all.
Alice Coltrane was well aware that she always was and always will be a significant part of all of our universes. For entirely selfish reasons I wish she would have physically stuck around a little longer so I could've had another chance to witness her comeback. But I know she still remains where she always was and will be.
For those of you who need an introduction, here're a few of my favorite Alice Coltrane recorded moments. This list is by no means intended to be definitive. Click any of the bold titles to download 'em on iTunes: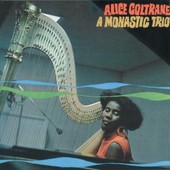 Alice with all Coltrane alumni – Pharaoh Sanders and the super-rhythm section of Jimmy Garrison and Rashid Ali! Some hard modal blues played with flourishes of eastern percussion and train-loads of feeling. Check out the muscular leadoff track
"Lord Help Me to Be" or the sparse tension builders "I
Want to See You" or "Ohnedaruth". If you have any question as to whether or not she was a worthy successor
to McCoy Tyner in Trane's band, check out her bursts of fingerbusting on the sublime solo song "The Sun"
Ptah the El Daoud (1970):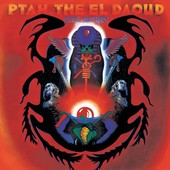 Here Alice mellows out a bit and starts really becoming the Alice Coltrane we know and love. A pretty perfect work consisting of four tracks featuring an all-star cast of Ben Riley, Ron Carter, a kinder gentler Pharaoh Sanders, and the stellar Joe Henderson. The title track, based on an elegant swingy riff is a fully realized contemporary jazz classic no matter how you slice it. "Turiya and Ramakrishna" is a top-notch lyrical blues ballad.
"Blue Nile" is the new age confection that may be the best song to ever feature majestic harp flourishes. I'm not however very keen on any of the competition. But seriously, take a second to see how it all falls together. Finally, "Mantra" is the super adventurous one that doesn't swing but instead pulls itself apart by its own edges and ties 'em together into a completely different animal as dissonance is illuminated by random bursts of blinding color.
Journey in Satchidananda (1970):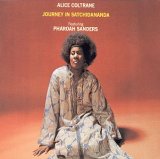 Here Alice Coltrane opens up a bit more space, pares her arrangements down, drones longer, and conjures a vast South Asian mountain landscape. Again she recruits a group of legendary figures like Pharaoh Sanders, Charlie Haden, Cecil McBee, and Rashied Ali. There's no shortage of bells, oud, tamboura, and other exotic instrumentation. Coltrane's
harp also returns, this time with less sweetness and more depth.
Again, there ain't a dinger in the bunch. Try the ambiguous
swirl of the harp-driven title track or "Shiva-Loka" on for size. Recline and relish the tiny bubbles. "Stopover Bombay" and "Something About John Coltrane" swing bluesy and exotic – free and flawless. "Isis and Osiris," the live track, features with some of the most virtuosic playing you're likely to find on any song this restrained – one of jazz's more distinctive masterworks.
Universal Consciousness (1971):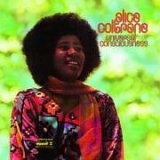 Many regard this her best album and most articulate statement. I haven't given it enough of my time, but am ready for another go. This one's continues the slow restrained path of her musical development with more formality than ever. Much of the stylized elements come from arrangements by none other than Ornette Coleman. Jimmy Garrison and the incomparable Rashid Ali appear once more and Jack DeJohnette also drums sometimes and Leroy Jenkins plays violin. While less dissonant than most free or avant jazz, for me this is most difficult of Coltrane's catalog – perhaps because of the slow tense tempo and uncomfortable harmonic structures… or its lack of bluesyness. Nonetheless, the exquisite title track is unlike anything my ears have ever witnessed and the other ones are beginning to grow on me.
World Galaxy (1971):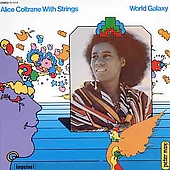 If anything here it's cool to hear Alice Coltrane interpret two of
her husband's signature tracks "My Favorite Things" and
"A Love Supreme" with a spiritually faithful, yet musically unique approach – sneaking up and swinging the heck out of both of 'em on a couple of my favorite organ solos of her entire career. Beautiful bookends that stand both on their own and as an homage to John Coltrane.

Transcendence (1977):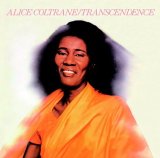 One of her Warner Brothers records. Not my favorite but undeniable integrity.
I'm listing it here because of her super funky Rhodes work
on the laid back groove-fest,
"Ghana Nila." This is her most
danceable moment.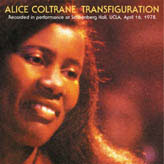 A live 1976 recording that is particularly appealing because you get to hear Alice Coltrane harpless and leading a trio backed by the outstanding rhythm section of Reggie Workman and Roy Haynes. Not a wasted second – a showcase of her versatility, virtuosity, and improvisational power. The highlight, one of the peaks of her entire recorded body of work is an epic take on John Coltrane's "Leo" divided into  parts one and two – in which the twelve tones, each representing a different zodiac sign, play off one another for more than a half-hour – and it keeps going way past the point in which every musical device has been exhausted. If you can open up
to it you'll be rewarded with an elaborate sonic story and, if you can't, I still admire you for trying.
Translinear Light (2004):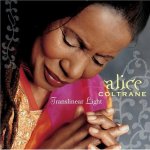 Alice's big comeback, produced by her son Ravi and including Oran's sax as well, features AC alumni from her golden age like Charlie Haden and Jack DeJohnette. A little souvenir of everywhere she's visited along the way can be found here, along with some new additions such as some occasional fusion-ish playing and contemporary production techniques. Recommended cuts include the chant "Satya Sai Isha," an unusual rendering
of "This Train" in which the bass keeps much of the melody, and a sparse beauty entitled "Triloka" in which she masterfully
conjures a deep and varied piano meditation above a serious dose of the magnificent Mr. Haden. Her return to "Leo" is the most fire you'll find here and my favorite cut – particularly because of her interplay with Ravi – who here proves himself his father's son.
ALICE COLTRANE ON THE WEB
Alice Coltrane's official site
New York Times Alice Coltrane Obit
Impulse! Records Alice Coltrane page
AliceColtrane on Wikipedia
Alice Coltrane at Allmusic.com
Alice Coltrane at Allaboutjazz.com
Sri Sathya Sai Baba
Sai Anantam Ashram
John Coltrane
Ravi Coltrane