by nynt on February 7th, 2007
Mr JT bio

- NYNT/Mr JT current & former parties

- Mr JT press pics
"Jonathan Toubin is the only person we can call a "professional DJ" without making a jack-off motion with our hand… And his parties are like what Ancient Stonehenge was like if it was, as archeologists theorize, filled with people dressed many times better than you completely losing their shit." – Mike de Leon, Vice

"DJ Jonathan Toubin is creating his own kind of dance revolution" – Araceli Cruz, Village Voice

"New York Night Train's Jonathan Toubin throws the raddest underground rock parties in New York" – Alexander Thompson, Paper Magazine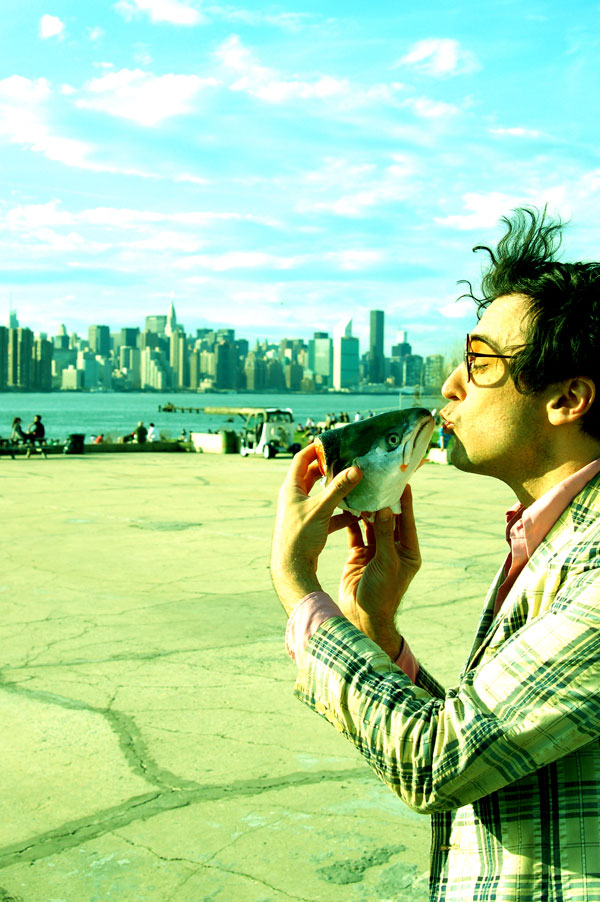 NEW YORK NIGHT TRAIN is the party machine of dynamic DJ/nightlife visionary Jonathan Toubin who is currently changing the world one wild 45rpm hoodang at a time! Making life a spicier by prompting folks to dance at rock shows, bars, art galleries, and other places that used to be no fun. And simultaneously offering a more extciting and exquisite "maximum rock and soul" alternative to the music typically spun at night clubs, discos, raves, loft parties, etc.
In just six years, Jonathan Toubin — rock and soul 45 DJ and proprietor of the New York Night Train brand party production enterprise — has charted a career that is culturally and commercially unparalleled. With a visionary take on nightlife and an obsessively curated collection of obscure 7-inch records, he has sold out clubs and performed at major rock concerts and festivals across the U.S. and around the world. Though known for the burning immediacy of his "maximum rock and soul" sets at the weekly Shakin' All Over Under Sideways Down dance, his instructional Land of 1000 Dances spectacle, his elaborately grandious multi-media worldwide "Happenings", and other trademark parties, Toubin's take on 1960s soul music, the Soul Clap and Dance-Off, has left the biggest footprint on contemporary urban nightlife and put Mr. T on the map as soul man .
Working over 1200 gigs the last six years, Mr. Jonathan Toubin has managed to keep one Beatle boot in the counter-culture from which he emerged (punk bars, DIY basements, loft parties, art galleries, music venues, and shady afterhours spots) while crossing over to dance clubs, prestigious festivals, boutique hotels, museums, ivy league colleges, fashion parties, arena pop/rock shows, and even raves – garnering press in highbrow publications and receiving nominations for nightlife awards from the fancier side of New York culture in the process.
Jonathan Toubin conceived the Soul Clap and Dance-Off in March 2007 as a monthly outlet to play his growing collection of soul 45s to a small north Brooklyn underground art/rock social community in the spirit of the mid-1990s indie/punk scene parties. He added a brief dance-contest to the mix to make the event more interesting. As this humble makeshift neighborhood underdog evolved into an institution, Mr. T employed the party's popularity as a weapon against tired hit nights, 80s nights, and other mediocre contemporary dance culture – offering an alternative in the possibility of dancing to exciting music most of us have never heard before with the unparalled sound of the original recordings. The epic size, frequency, and geographical breadth of the Soul Clap the last few years has been a seed for a new wave of soul dance culture among indie rockers, punks, and hipsters first in Brooklyn, next in Manhattan, and, within two years, around the world – inspiring slews of imitators and developing a new nightlife economy everywhere from Portland, ME to Portland, OR, from Canada to Mexico and even as far away as the Middle East.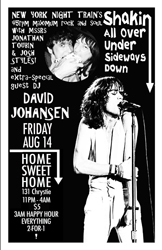 When Jonathan Toubin began regularly DJing punk/garage/noise rock weekly at the Lower East Side's infamous Motor City Bar in 2006, he was a small record label-owner/musician/published academic/professional writer. Within a year, Mr. Toubin had thrown that all away and become a professional DJ/party promoter – working nightly around New York mixing in eclectic genres (psych, punk, rocksteady, etc.) with the garage, rockabilly, doo wop, r&b, and soul sounds that he's best known for today. Casting aside mp3s, CDs, and eventually LPs once he began hitting dance spots, he stepped up to the challenge of spinning exclusively the biggest and baddest musical medium ever, the 45rpm vinyl record. Switching to an all 45 format not only meant spending all of his time and hard-earned cash obtaining his favorite records, but also taking a step back in his repertoire for a spell. The gamble, the expense, and the hard work rapidly paid off – New York Night Train's conductor increasingly became known from Brooklyn to the Lower East Side for his 7-inch ragers.
Playing to dancers instead of collectors, cutting $1 commoners with $100 rarities with strategic pitching, sequencing, EQ-ing, and transitioning, Mr T distinguished his sets from typical retro DJs by focusing on juxtaposition of beats and developing a playfully unique selection aesthetic. In the process he also stood far apart from the hit-players and computer jocks on the other end of culture by playing uncommon supreme music on all-original vinyl. Years of nightly gigging in a variety of settings offered NYNT's conductor a huge advantage over his peers in that his labor also served as an infinite laboratory regarding the subtleties of how, without spinning obvious material, to make a variety of cultures and subcultures dance together – uniting even the squarest weekend dance floors under the undeniable power of his live improvised mixes of real deal records.
In addition to its notorious dance contest, New York Night Train parties have been made even more interesting by including noteable guest DJs, live music, visuals, and performance to the mix. Andrew WK, Black Lips, Dum Dum Girls, King Khan and the BBQ and King Khan and the Shrines, the Oh Sees, Quintron and Ms Pussycat, Screaming Females, Sky Saxon, The Slits, Wreckless Eric, and dozens and dozens more have played at NYNT parties. In addition to practically every major American 45 DJ of note, the parties have also featured guest DJs from across music: Calvin Johnson (Beat Happening), Danny Kroha and Mick Collins (The Gories), David Johansen (New York Dolls), Genesis P-Orridge (Throbbing Gristle), Gibby Haynes (Butthole Surfers), Ian Svenonius (Make-Up), James Chance (Contortions), Jared Swiley (Black Lips), Jello Biafra (Dead Kennedy's), Jon Spencer (Pussy Galore), Kembra Pfahler (Veloptuous Horror of Karen Black), Kyp Malone (TV on the Radio), Moses Archuleta (Deerhunter), Sean Yseult (White Zombie), Nick Zinner (Yeah Yeah Yeahs) and many more. Finally, outside of his own parties, Jonathan as a DJ has shared bills with Black Keys, Bon Iver, Dinosaur Jr, Erykah Badu, Faith No More, F*cked Up, Interpol, Jack White, Kool Herc, LCD Soundsystems, MGMT, MIA, Mission of Burma, Odd Future, Rick Ross, Silver Apple, Ty Segall, Vivian Girls, and hundreds of other notablebands and DJs. An eclectic mix to say the least.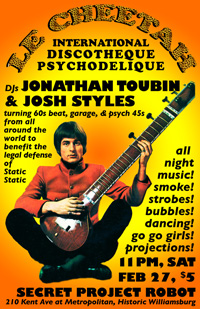 December 7, 2011, while Toubin was on tour in Portland, OR, a runaway cab crashed through his first-floor hotel room – running him over and landing on his chest. In critical condition and sedated in the ICU for over a month, the soul proprietor's friends and fans around the United States took action – throwing him dozens of benefits everywhere from New York to Los Angeles and Detroit to New Orleans – featuring everyone from Yeah Yeah Yeahs to Ariel Pink to Maragaret Cho. Many operations and months of physical therapy later, New York Night Train's conducter proved that he would not let 26 major injuries bring him down – making his public debut as the surprise DJ for Jack White's show at Webster Hall April 27 (less than five months after the accident!). While he's currently working less than half as much as last year until he fully recovers, he's nonetheless back at what he does best roughly twice a week.
Summer 2012 finds Toubin returning to his weekly Friday Shakin' All Over Under Sideways Down gig at Home Sweet Home and monthly Soul Clap and Dance-Off (which moves to Brooklyn Bowl September 21) as well as hitting prestigious festivals like Lincoln Center's Midsummer Night's Swing, the Village Voice 4 Knots Festival, and All Tomorrow's Parties, plus a few road gigs per month. Armed with the finest and most unusual records of his career and a higher sense of purpose, more than ever he continues to prove that nightlife doesn't have to be boring – spicing up an otherwise bland landscape with his distinctively explosive vinyl goodies and legendary parties. Get on board!
Mr. Jonathan Toubin/NY Night Train Current Reoccuring Parties:


Soul Clap and Dance-Off (2007-present) – 3rd Saturday of every month in New York (formerly at Glasslands –

moving to Brooklyn Bowl September 21)

plus on the road dozens of dates annually. North America's most popular soul party and still growing…
Shakin' All Over Under Sideways Down! (2008 – present) – Fridays at Home Sweet Home – "maximum rock and soul" dancing every Friday night – a format of screaming r&b, pounding garage, and chugging early rock'n'roll! This popular weekly institution features Mr Jonathan Toubin and guest DJs including rock stars like David Johansen, Jon Spencer, etc, and DJ legends like Fine Wine, Howie Pyro, etc. Plus occasional live performances by the likes of Wreckless Eric, Kid Congo Powers, etc.
Land of 1000 Dances (2011 – present) – randomly at prestigious venues like Le Poisson Rouge, South Street Seaport, 92 Y, etc. Many years in the making in terms of research and development, this is a dance party that is also a dance class – where you can learn the dance craze steps of the 1960s while you get down. Dance demonstrators show you the moves and visuals give you the cues while Mr. JT lays down the original recordings for you to pony like bonie maronie, hitch hike across the floor, pass the bug, and kill that roach…
New York Night Train Happening (2007 – present) andomly in NYC and on the road – visuals by Spencer Bewley, go go dancing by Anna Copa Cabanna, DJ-ing by Jonathan Toubin and guests – plus live bands and performance artists – a more elegant Exploding Plastic Inevitable for our times w/guest performers like HEALTH, King Khan & the BBQ, Quintron and Ms. Pussycat, Chain and the Gang, Calvin Johnson, Gibby Haynes, etc etc etc…
Polyglot Discotheque (2009 – present) – randomly at Secret Project Robot, Live With Animals, and Zebulon on the west coast – featuring dancing to trippy international 60s freakbeat, psych, etc w/Toubin and Josh Styles (Smashed! Blocked!), visuals, go go dancers, etc.
Boogie Night (2010 – present) – randomly – an exclusively electric boogie and blues get-down featuring Mr. Jonathan Toubin and a live band
James Brown Night (2011 – present) – randomly, James Chance and the J.C.'s play all James Brown covers live and Jonathan Toubin turns dozens of original 45s written, produced, and/or performed by James Brown…

Former Residencies:

2006 – 2011: NY Night Train Wednesdays – Motor City Bar (weekly)
2011: Sit-Down Soul – Ace Hotel (weekly)
2011: Summer Soul (randomly – at outdoor locations around NYC)
2010: Rocks Off Cruises presente NY Night Train's Ya Ya Yacht – The Half-Moon (monthly)
2008 – 2010: Thursday Thump – Enid's (weekly – curated but not regularly DJ-ed by Jonathan Toubin)
2007 – 2009: Boogaloo Shampoo – Beauty Bar Manhattan/Brooklyn (weekly)
2007 – 2009: Animal Train Happening – Glasslands (monthly)
2008: Secret Santo and Declassified – Santos' Party House (weekly)
2007 – 2008: Ants in Your Pants Dance Party – Savalas (weekly)
2007: Loose Caboose – Club Midway (weekly)
Mr Jonathan Toubin has DJ-ed with: Andy Rourke (The Smiths) - Beyonda (I've Got a Hole In My Soul) – Billy Miller and Miraim Linna (Norton Records) - Brian DeGraw (Gang Gang Dance) – Calvin Johnson (Beat Happening, Dub Narcotic, etc) - Cosmo Baker (The Rub)- Dale Crover (The Melvins) - Danny Kroha (The Gories) – David Johansen (New York Dolls, etc) – Devendra Banhardt – Don Bolles (The Germs, 45 Grave, etc.) – Dusty Sparkles (Danava) – Frankie Rose (Vivian Girls, Crystal Stilts, Dum Dum Girls, etc.) – Gabriel Roth (Dap-Tone Records, Sharon Jones and the Dap Kings) - Genesis P-Orridge (Throbbing Gristle, Psychic TV) – Gibby Haynes (Butthole Surfers)- House of House (DFA) - Howie Pyro (Intoxica Radio, Danzig, D-Generation, The Blessed, etc) - Ian Svenonius (Make-Up, Nation of Ulysses, Chain and the Gang, etc) - Ivan Sunshine (Hidden Fees) – James Chance (The Contortions), James White and the Blacks) - James Murphy (LCD Soundsystems) – Jared Swiley (Black Lips) - Jello Biafra (Dead Kennedy's etc) - Jim Sclavunos (Nick Cave and the Bad Seeds, Grinderman, etc) - Jon Spencer (Blues Explosion, Pussy Galore, etc) - Josh Styles (Smashed! Blocked!) - Kid Congo Powers (Gun Club, Cramps, etc)- Kembra Pfahler (Veloptuous Horror of Karen Black) – Kool Herc (father of Hip-Hop music) – Kyp Malone (TV on the Radio) – Moses Archuleta (Dear Hunter) - Mr. Fine Wine (WFMU's Downtown Soulville) - Nick Zinner (Yeah Yeah Yeahs) - Paul Ryder (The Happy Mondays) - Phast Phreddie (Backdoor Man, Subway Soul, etc) - Pieter Schoolwerth (Wierd Records) – Primo (Oldies Night) – Ryan Schreiber (editor/founder – Pitchfork Media) Sammy Yaffa (New York Dolls, Hanoi Rocks) - Sean Yseult (White Zombie) – Simeon Coxe (Silver Apples) - $mall Change- Steve Krakow (Plastic Crimewave Sound)- The Shins - Tim Kerr (Big Boys, Poison 13, Monkeywrench, Jack of Fire, Lord High Fixers, etc.) – Tim Warren (Crypt Records) – Todd-O-Phonic Todd (WFMU, Telstar, Candy, and Satan Records)
New York Night Train throws parties featuring DJ Jonathan Toubin and live acts like: …And You Will Know Us By The Trail of Dead (2-piece hardcore lineup) - April March – A.R.E. Weapons – Andrew WK - Awesome Color - Beets – Black Time - Blank Dogs - Brimstone Howl – Calvin Johnson - Chain and the Gang - Cheap Time - Crystal Stilts - Daddy Long Legs – Danny Kroha – Death Set - Digital Leather - Drones – Dum Dum Girls - Excepter - Frankie Rose – Fresh and Onlys - Garotas Suecas - Gogogo Airheart - Golden Triangle – Grass Widow – Greg Ashley - HEALTH - Heavy Trash - Homosexuals - Indian Jewelry - Intelligence – James Chance – Julee Cruise – K-Holes – Kid Congo and the Pink Monkeybirds - King Khan and the BBQ - King Khan and the Shrines – Manny Fresh - Mark Sultan – Mika Miko – Mos Def - No Bra – Notekillers – Oh Sees - Pink Reason – Psychic Ills - Psychedelic Horseshit – Pterodactyl – Quintron and Ms Pussycat - Screaming Females – Sky "Sunlight" Saxon – The Slits – So Cow - Spits - Stalkers – Strange Boys - Suckers – Surfer Blood - Talk Normal – Thalia Zedek – Turbo Fruits – Vietnam – Wreckless Eric
Mr Jonathan Toubin also DJs at shows of bands like: Black Keys – Black Lips – Black Mountain – Bon Iver – Boyd Rice – The Contortions – Davilla 666 - Death From Above 1979 (DFA) – Dinosaur Jr - Erykah Badu – Faith No More - F*cked Up – Gang Gang Dance – The Go - Glass Candy – HEALTH - Interpol – Jack White – Jon Spencer Blues Explosion – Katy Red – Kendrick Lamar – King Khan and the BBQ – King Khan and the Shrines - LCD Soundsystems – Les Savy Fav - The Men – MGMT - MIA – Mission of Burma - Monotonix – Nicole Atkins – Odd Future – Off – Pharcyde- Ponytail – Rick Ross – Savages – Spank Rock – Ty Segall – Vivian Girls – White Fence
Mr Jonathan Toubin DJs at festivals/special events like: 35 Denton Festival (Denton, TX) – All Tomorrow's Party's (Monticello, NY) – Bruise Cruise (Miami/The Bahamas) – Chaos in Tejas (Austin) – CMJ (NYC) – Fashion Week (NYC) – First Saturdays at the Brooklyn Museum (NYC)- Fun Fun Fun (Austin) – Guilty Boat Party (Venice, Italy) – Lucha VaVoom (East Coast Dates) – Mardi Gras (New Orleans and Mobile) – Midsummer Nights Swing at Lincoln Center (NYC) – Music Fest NW (Portland, OR) – Northside Festival (Brooklyn) – Nuits Sonores (Lyon, France) – NXNW (Toronto) – Pitchfork Festival (Chicago) – Ponderosa Stomp (New Orleans) – Pop Montreal – Savannah Stopover (Savannah, GA) – Sled Island (Calgary) – SXSW (Austin) – Vice Scion Garage Rock Festival (Portland, OR) – Village Voice 4Knots Festival (NYC) – WFMU Record Fair (NYC)
Mr. Jonathan Toubin Press Pics
Follow New York Night Train on:
- Twitter (https://twitter.com/NY_Night_Train)
–
Facebook (http://www.facebook.com/pages/New-York-Night-Train/47167209984)
– Email list (MailingList – at – NewYorkNightTrain.com)
To book Mr. Jonathan Toubin, the Soul Clap and Dance-Off, or any other NY Night Train party
contact Michelle Cable at Panache Booking. For Europe conact Buzz at U-Turn Touring.
Download the printable Soul Clap/Mr JT press kit here.
Find Mr Jonathan Toubin's promotional pictures for print and online here.
Listen to Mr. JT's "NY Night Train Soul Clap Classics Volume 1" mix here.