by nynt on May 1st, 2007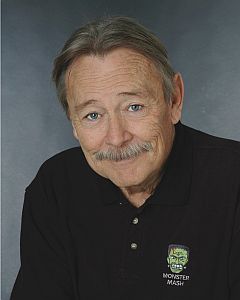 A few days ago Bobby "Boris" Pickett, author and performer of the brilliant 1962 novelty hit "Monster Mash," went to Halloween heaven.
Despite his two other charting singles, a song that brought Halloween to Christmas, "Monster's Holiday" (1962) or "Graduation Day," Pickett is often remembered as a one-hit wonder. But what a hit!…
What doesn't it have! Keeping with the fashion of the early 1960s, it's got a killer beat and is a song about a dance. It has a juicier plot than most pop songs – narrated by a mad scientist whose monster stands up from the laboratory table to do a dance. The scientist throws a party for the other monsters and the hip new step catches on. It has the sounds of bubbling cauldrons, coffins opening, and rattling chains. Not only does it have Pickett's trademark Boris Karloff impersonationm but his Bela Lugosi also makes a cameo, asking, "Whatever happened to the Transylvania Twist?" And no K-Tel or Ronco Halloween record would ever be complete without it.

Holiday songs are some of the only older tunes that escape the nostalgia radio ghetto still get played on Top 40 stations year after year – and, in that sense, they're closest thing the United States currently has to national folk music. While Christmas is typically the only holiday in which the oldies get busted out en mass, Halloween comes in second. And while Halloween has its "I Put a Spell On You's" and even "Purple People Eater's," no other song is more widely associated with the festivities or frequently played than the "Monster Mash." And, the fact that it's the supreme song of our greatest holiday may just indicate that it's more than just one of the ultimate novelty hits, but the United States' unofficial national anthem.
Pickett, an archetypal aspiring actor moving to Hollywood to make it in the film industry, wound up working as a standup comedian specializing in horror film impersonations and a member of the doo-wop group The Cordials. Gary S. Paxton, singer for the Hollywood Argyles, whose "Alley Oop' is also in the novelty rock canon, produced, engineered, and released the song after four labels rejected it. Credited to "Bobby 'Boris' Pickett & The Crypt-Kickers," the studio band consisted of Pickett, Paxton, and an some pickup musicians that included a young Leon Russell on piano.

Since these was a glorious era when an individual with a good idea could still release a song that could compete with, and even overtake, the major label offerings on the Billboard Hot 100, the "Mash" did exactly that, reaching the Number One and selling over a million copies. And how many songs, in their original form, can you say came back on the charts two more times a decade after its initial release? The "Monster Mash" was extraordinary indeed.
Bobby Pickett's recording and performance career continued until his leukemia-related demise last week. An entire album, The Original Monster Mash,

featuring spooky dance numbers like "Transylvania Twist" and "Skully Gully," spoofs like "Let's Fly Away" and "Rabian – The Fiendage Idol," as well as its famous title track and "Monster's Holiday" and nine more, was released in 1962. In addition to brief novelty success with the Dr. Dimento standard, "Stardrek" in 1976, he rerecorded his biggest hit in 2005, this time with a global warming theme, "Climate Mash." Making a handsome living off of royalties, he continued to perform regularly, particularly around his favorite holiday (apparently he'd tell the audience, "I'd like to perform a medley of my hit." Go here to check out his site.
Goodbye Bobby Pickett, though I never knew you at all, I will continue to jam your graveyard smash. Viva le "Mash!"
Here's Mike Tyson and Bobby Brown doing the mash:

This is an excellent 1970s cartoon of the Mash:

And, finally, a Youtube file of Bobby Pickett with Zacherley the Cool Ghoul (John Zacherle) doing his hit last Halloween in New Jersey: