by nynt on December 13th, 2012
12-14 New York, NY – Home Sweet Home: Shakin' All Over Under Sideways Down w/extra special secret surprise early guest (11-12:30)!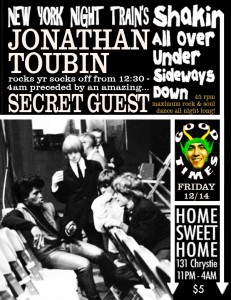 facebook event
12-15 Brooklyn, NY – Brooklyn Bowl: NYNT Holiday Party/Special Soul Clap and Dance-Off w/selector JAMES CHANCE playing LIVE SAX ON STAGE during the contest and CHAMPS bakery judging! (facebook event | advance tickets)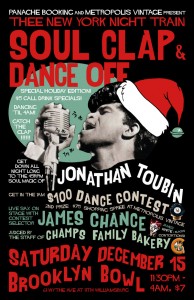 While this special holiday edition of the Soul Clap, will, for the most part, as usual, feature a mix of uncommon but amazing wild soul 45s, due to a few seasonal milestones,it will include splashes of classicism you don't always see at the Clap. Christmas belongs to to James Brown who made loads of Holiday tracks and died on Christmas day – so we are definitely gonna return to Soul Brother #1 for this one! Not only will we turn some of JB's holiday favorites but we also got the white James Brown, JAMES CHANCE of the CONTORTIONS and JAMES WHITE AND THE BLACKS to select tracks and sing and dance and blow his sax during the contest portion of the night. Also, in the time since the last Clap, Jimi Hendrix just turned 70 and we will be presenting the supreme and under-rated work he did as a soul side man with the likes of Lonnie Youngblood and Curtis Knight. Finally, the Rolling Stones wrap up their 50th anniversary tour tonight in Newark and we're gonna celebrate with a few soul covers of the stones and some songs that they covered. This juncture is totally random but I guess we can make sense of it as another step in our nightly sonic celebration of the best music of all time. As always for the contest, its at 1am and is for $100 Cash (1st place) and $75 at Metropolis Vintage. Champs Family Bakery are the judges! And stay late as we dance 'til 4! Also, the club is offering up a Soul Clap drinks special with $5 Espolon tequila drinks and shots all night long. Seriously this is gonna be a blast!
UPCOMING NITE TRAINING:
– 12-21 New York, NY – Home Sweet Home: Shakin' All Over Under Sideways Down w/JT & Ian Svenonius (first and only nynt appearance of 2012! facebook event)
– 12-28 New York, NY – Home Sweet Home: Shakin' All Over Under Sideways Down (facebook event)
– 12-29 Chicago, IL – The Hideout: Soul Clap and Dance-Off
– 12-31 (8pm-8am) New York, NY – Home Sweet Home – NYNT NEW YEARS EVE SPECTACULAR + afterhours fun w/JT, DJs, and live bands – all family and friends – from dusk 'til dawn – Kid Congo and the K-Holes, Andy Animal Family Band, Call of the Wild, Josh Styles, Jonathan Toubin, and more TBA 'til the morning light!
– 01-04 New York, NY – Home Sweet Home: Shakin' All Over Under Sideways Down (facebook event)
– 01-05 Alston, MA – first ever Boston Soul Clap and Dance-Off
– 01-11 Austin, TX – Red 7: FREE WEEK Soul Clap and Dance-Off
– 01-11 New York, NY – Home Sweet Home: Shakin' All Over Under Sideways Down (facebook event)
– 01-12 Houston, TX – Fitzgerald's: Soul Clap and Dance-Off w/early performance by Vockah Redu and the Cru
– 01-13 Brooklyn, NY – Bell House: WFMU Benefit/Mini Record Fair w/Jon Spencer Blues Explosion, Dot Wiggin Band (of the Shaggs!), The Relatives (Dallas Psych band reuniting 40 years later!), Arrington Di Dionyso (Old Time Relijin!), and Jonathan Toubin (get tickets now!)
– 01-18 New York, NY – Home Sweet Home: Shakin' All Over Under Sideways Down (facebook event)
– 01-19 Brookyln, NY – Brooklyn Bowl: Soul Clap and Dance-Off