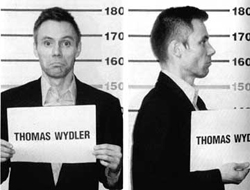 This whole time that I was doing The Gun Club and the Bad Seeds in Berlin there were also lots of other things going on. Like I said, Hansa Studios was a hotbed of activity in West Berlin at the time. And one of the things that came about was the Die Haut records. Die Haut were a band that had Thomas Wydler, who was the drummer in the Bad Seeds, and Rainer Lingk and Christoph Dreher and Jochen Arbeit. And they were known as an instrumental band with guest vocalists. Nick Cave had done an album with them, Burning the Ice, and Lydia Lunch. So they were planning a new recording at Hansa studio and they were going to do this album A Headless Body in a Topless Bar and, in the tradition of Die Haut, what they did is make instrumental tracks and then they got guest singers to do things on it.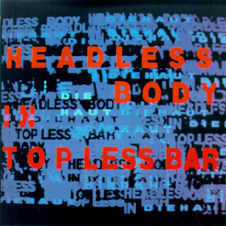 And so they were, because of Thomas, and because Christoph was involved in making a lot of videos with Nick, they were in our family of people. And they asked me to do a track or two on their record. I think I might even have suggested it to them that i do a track - because what I saw a lot of was that they were getting singers to be on their record and I thought that I would be a really good vocalist because of my kind of talking kind of style. And I thought what they needed was someone to go through the music rather than over the music. So I think they bought that bunch of baloney and let me do a track or two. That was good. That was another step in the direction of my singing. It was actually a thing that I saw that I could actually fit in. And they got very excited with what I did with things - which was actually an understated thing rather than singing.
And then I did some live shows with them too. And that was really good because it was really fun to go onstage without a guitar and go on for four minutes and do a song and leave.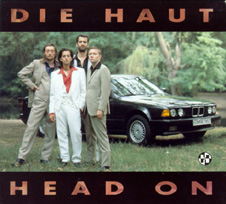 And then they did another album a year or two later which was celebrating their – I can't remember it was - either their ten or twenty year anniversary. And for this record they got out the big guns. They already had Nick Cave and me or Mick – they already had their friends on it. But then they decided, for the Head On album, to get Alan Vega and Debbie Harry and Jeffrey Lee Pierce to do numbers on it. And that turned out really fun. I ended up doing a duet with Lydia Lunch – which was fun to reconnect with her and finally do a project some years later.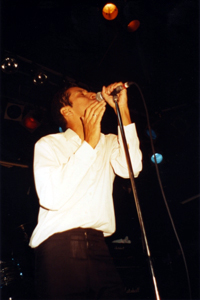 The thing that was fun about that was that they put a tour together. Not a long one – but a short one. And it was a crazy debauched circus of people. For the live tour it was me, Anita Lane, Lydia Lunch, Blixa Bargeld, Nick Cave, and Jeffrey Lee Pierce and Alex Hacke. They were very smart and advertised it as their big ten-year anniversary. And we did some crazy shows and really had fun. We had a tour bus and jumped in, had crazy disco parties on the freeway, danced in the isles, and went onstage. And that was a fun experience.
I had written my own lyrics for all of those songs. It was good because I was actually doing a lot of writing again. The community of people I was with were really good, literary smart people. We always traded books and there was lots of reading going on. And we were very interested in our lyrical writing and prose and things. That time was really influential and made me confident as a writer of lyrics.
Kid sings with Die Haut at the Hague in 1992.
Courtesy of From the Archives.

So because of the Die Haut experience I was more confident in singing. This was post-Mother Juno. And I was once again going to try to do a solo record and I asked Robin Guthrie again, who I'd met through Mother Juno, and some friends of mine like Marcia Schofield from The Fall, and Barry Adamson, and this guy who produced the record, Ray Conroy, who was the manager of the band Colourbox and that band M/A/R/R/S, who did that song "Pump Up the Volume." We had an idea that we were going to mix rock and dance music together and my kind of guitar playing – that was going to be the form for my solo record. So we recorded that in London at September Sound, which was Robin's studio.
And that came out to great critical fanfare. But something crazy happened with Rough Trade where the warehouse that was holding their stuff weren't getting paid. So, all of this press - and they made a video – but the record didn't come out until four months after the press and everything because of the hold-up of the records in the warehouse. So more indie-torture... And nothing really came of that except for the recording. We never did a live set for it or anything.
I don't know the reason why it was the last kind of solo thing. I think it was because right after that I got involved with making Congo Norvell - which actually became a project I got really into - and we had a singer who could more than enough sing - Sally Norvell is an incredible singer. I got so excited about her singing that I really wanted to write songs that would be good vehicles for her to sing. I thought that her voice could be completely devastating if I wrote the right songs for her. I wanted to really dedicate time to working with her. There was such good chemistry that there was no reason to do anything else. That was kind of the reason why I didn't do any other solo stuff.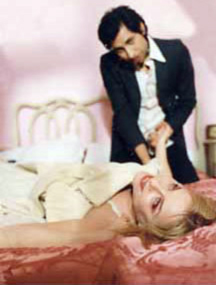 Congo Norvell was a band I started after I moved back to Los Angeles in probably 1989/90. We were introduced by a mutual friend who told me about her and he had mentioned that she had been in a Wim Wenders film as well (Sally Norvell played a nurse in Paris, TX. Kid performed with Nick Cave and the Bad Seeds in Wim Wenders Wings of Desire). And there was this really amazing singer that he knew and she was really dying to do something but didn't really have quite a direction and she couldn't find the right people to collaborate with. She was actually in the film business in Los Angeles and it didn't give her a lot of time to pursue her musical interests. What she was doing was singing standards at a jazz club one night a week or one night a month or something.
He invited me to go with him to go see her and I was completely devastated by this incredible voice she had. She had a really great voice, a really great stage presence, and she really sang these standards but somehow made them her own and made them really come to life. And that wasn't just singing standards – it was coming from her. And so I was really really impressed and was like, "I have to do something with her if she's game."
I met her and we embarked on doing something. So the first thing we did, because we didn't have a band or any kind of thing, was, we were talking about our friends and AIDS and the second generation of people dying of AIDS who were our peers and our friends. Because we knew a lot of artists, we knew a lot of people who took drugs, a lot of sexually promiscuous people, a lot of gay people, it was like everyone – it wasn't like one group of people. The first wave of our friends were gay men, and it was getting closer to our age group. We were obviously very distraught about this but very much wanted to make something good come out of it. And we decided that we would write a song or two that reflect the emotional part of it. Because of her being a jazz-singer, it was kind of like, "Let's focus on making a torch song – addressing this being a little more, 'how can you see some light' kind of gospel. And we wrote some songs like that song "Lullaby" on that EP. I had this John Lee Hooker bootleg where all he's doing is tapping on his guitar the whole time and he's making it ring. And so I was playing around with that. So we did a song like that and it became our big hit. That was a big one in our live show.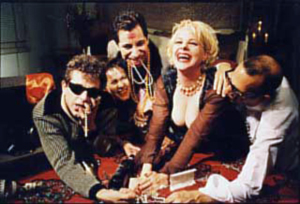 We got some people to play with us. Jim Sclavunous played with us for a while and we got some people together and actually made a band. We started to play live shows – art events and AIDS benefits and things like that. Kind of slowly it morphed into a band and we started making songs and then we realized that we wanted to continue and actually make a band out of all of this and be serious about it. So we gathered our friends together – Kristian Hoffman (from The Mumps) and this woman Mary Mullen and we started to play live and started to get a following. Our (Lullabies)had a little cult-y success and was well liked. Somehow we got lumped into this trend of lounge that was emerging in the world – especially in the Los Angeles world.

We attracted the attention of people who put out records. We had a record on this label Basura – who, funny enough, was distributed by Priority Records, who were Ice Cube and NWA's label. So it was a really funny thing that they wanted to start an alternative label. So we put out one album, Music to Remember Him By - that was the title of it. And we did a lot of touring. They wanted us to do another record and they wanted us to be on the biggy - Priority label.

So we made another album (The Dope, The Lies, The Vaseline) and that was really well done. We put a lot of, lot of, lot of work into it. It came out really great. It got to the point where they already had promos mailed out, and it was starting to get reviewed and a tour booked. And it was getting really rave reviews. We were really getting noticed. It just seemed like, "Wow, something's going to really happen." Because you can tell when something's going to happen by the pre-press. At the last second, Priority, without word, just decided that they weren't going to put out their alternative records anymore. And so we were left kind of high and dry. We were devastated. We begged them to let us buy it from them. We did everything and they just wouldn't budge. Their lawyers were in lawyer-head. And it didn't matter what we said or however we pleaded to them on whatever artistic level or whatever business level we tried, they decided they were just going to sit on it. We were really upset and devastated and mad and angry and ready to murder somebody. So we decided, "Well they're really not going to give it to us, and it's really fucked up and we are going to move to New York because LA's obviously not the place for us and this whole game is really a stupid game and we don't want to have a part of it anymore. We're worth much more than that. And why don't we go where someone might understand us and want to do something?" So we packed up a Rider truck and we drove across country to New York and moved here. That's where we are now and I've been here ever since.
So that was a whole new thing for us. I felt really great moving back to New York. I knew a lot of people. The music scene at the time was really great. There was a real support between bands and a real camaraderie and a kind of music scene going on that's very different than it is now.

It wasn't just young new people – it was a lot of people who had been around. It was very artistically-driven and very very up-for-grabs. We got a record label right away and recorded an album – that was Abnormals Anonymous. And that had a big good success.
Somehow we weren't able to tour. And this had to do with some personal restrictions. Sally had to work and Sally had a kid. She wasn't able to leave as easily as in the past. She had gone through a divorce. She didn't have a husband. She was a single mother. So we only played locally some and east coast. And that kind of led to some disillusionment and putting things on hold for a while. And we just said, "Obviously we can't do this right now – physically do it. So let's see what happens." We haven't got back together just yet. But there's often talk about it. We've done many reunion shows and many collaborations together. But we haven't gone the whole hog. And I think that's because I went on to do other bands that were kind of demanding.

Continue to 11. "Guitar Man": Collaborations and Guest Appearances
Kid Congo Powers Pt 2 home page | Kid Congo Powers Oral History table of contents
New York Night Train home page | New York Night Train table of contents