We decided, "OK, The Gun Club's splitting up." So we were all in London and me and Patricia decided to have a band. And we had this pick-up drummer who we became friends with named "Desperate," "Desi" as we called him. And we decided, "Well, let's just make another band." Actually I was so at loose ends that I had no idea what to possibly do. Actually me and Patricia were still kind of talking. And I think I was so worn-out and devastated and I didn't know what to do next. So I had these people, so they would have a band. They said, "yeah." I said, "I met this great guy on this Australian tour." Patricia had met him too because he was Tex Perkins. And I said, "He'd be a good singer for a band like us." We started the works of contacting him and seeing if he'd be interested in such a project. And the Beasts of Bourbon record had just come out – he was in that band Beasts of Bourbon and that was his first record. And we got this Dutch promoter who kind of took us under his wing, thought this was a great idea, and was going to make it happen – financially – buy him a ticket, book shows, or do whatever.
He did that and Tex came and I think we even went to Holland. Even though I got along with Tex and I really liked his ideas, he was a really strong person with really strong ideas and it just somehow was not jiving with our ideas or the ideas that other people had for us. Like I said, we were a little bit lost at this point. And so we tried doing some stuff and it just really wasn't working out at all. Chemistry is key and that was non-chemistry. Nothing to do with him, really, except that we were all just not musically suited for each other. So we said goodbye and that was that. Then we said, "Now what do we do?"

The Legendary Stardust Cowboy
So in the meantime while we were thinking about "now what do we do?", this Dutch promoter, Willem Venema had this idea. He was working on bringing over The Legendary Stardust Cowboy – who - we all new the song "Paralyzed." The song is a big legendary song that we all loved. He asked us, "Would you be the back-up band for this guy?" And I was like, "That 'Paralyzed' guy? Yeah, sure. That sounds great." And it was just a gig to do. I never met him. I didn't know what he might be like or anything. So he shows up – him and his manager. And he is a total kook. That guy is a total kook. Actually a little bit like Jeffrey but totally charming and loveable somehow - and very talented. It's a really untamed crazy talent, but he has his own vision and it has nothing to do with the rest of the world. And certainly I can appreciate that.
So we got a record and we learned the songs and we just ended up doing this crazy tour of Europe and it was totally fun and funny. And Patricia wore a big Dolly Parton blonde wig. It was totally campy and he was just crazy. What a nut! He did some crazy strip at the end where he stripped down to these horrible flesh-colored big underwear. And he just had all his crazy songs about UFOs and love and him "thinkin' about you while I'm sitting in a garbage can." And great songs. It was totally a gig, but I really loved it. It was a real fun thing and it really broke up this whole seriousness about The Gun Club breaking up and this thing with Tex not working out. It was like, "OK, we can be totally ridiculous." It came at the right time.
Meeting Norman, "The Ledge," as he is known. I just thought it would be some crazy old guy, which it kind of was – but he actually wasn't quite as old as I thought he was going to be. I just pictured some white-haired, wild-haired, Einstein cowboy thing. But he was actually kind of meek and mild mannered – kind of nerdish – with horn-rimmed glasses and his cowboy hat and a pair of chaps on. And he's the real thing. It's not an act – what he's doing. It's him and he's this persona and he is it. He was very much in his own world. He just would expound his theories about everything – about outer space mostly and the space programs – that was his real big forum. And he just hoped and hollered. There was no following what he was going to do. Jeffrey Lee Pierce could have never have prepared us for what kind of following of a singer we would have to do with that because he had no sense of timing at all or anything. He would just go and we would just go with him. It was often really hysterical. We were laughing so much every night and having a really great time. And he was super-popular and he always had lots of ladies afterwards giving him massage on the shoulders and buttoning up his shirt for him. He was a ladies man too. He had a strong reaction. He did a lot of press. I never saw someone do so much press either. He was doing interviews all the time. It was total great because he was a total kook becoming a weird European celebrity. To this day we still keep in touch. He's on Myspace.

The Fur Bible
After The Legendary Stardust Cowboy we still decided maybe we should still do something. I can't exactly remember whose idea it was but the idea was that I be the singer. And I had never sang once ever, ever, ever in my life. And I decided that it was a good idea to go to a vocal coach. So I found a vocal coach and I thought maybe I'll learn something. So I learned how to breath from the diaphragm. And I don't think I learned much about singing so I just started screaming. So I just decided "OK" and we decided to make a record.
Jim Thirwell was living in London with Lydia Lunch at the time and he said he would record us and produce it. And New Rose said it would put it out sight unseen. And so we made the Fur Bible band and we made an EP and I really hated it. Something in me said, "This is not right." Because I think the thing that wasn't right was that it was completely the last resort. I didn't like being the singer. I didn't want to be the singer. I didn't think the songs were really written very well. I don't know what I thought about it but I just wasn't one-hundred percent into it. Whereas other stuff I've done, even The Legendary Stardust Cowboy, I was able to be one-hundred percent into it. But I felt I was grasping at something that I wasn't quite getting to. Like I said, I didn't really have an idea of what to do. Even when we were recording, Jim Thirwell was being helpful: "Well you can either sing, you can talk, or you can scream." He gave me those three options. So I kind of think I tried to take one of those options on each track we did. Anyway, the record got made and I still didn't feel good about it. I think Jim did a good job but I just wan't convinced – the music wasn't the music I wanted to make at the time. I didn't think it was strong. I didn't think it was innovative. It was a weird period where I felt a complete void of what's next and I didn't think that was stepping into what's next.
But with that recording, I always had it as my one terrible moment. My one big mistake. I might have tried stuff that didn't really work but that was one that I was sure I failed miserably on. Some years later, many many years later, in recent years, people started coming up to me all the time when I'd play out, and say, "I have that Fur Bible record and its so great." And, "Is there any more recordings by that band?" And I thought, "OK, a fluke. Some insane person, some trainspotter, has to know the most obscure thing and humiliate me with it." And then, it started to happen more and more and more. And then it happened really a lot of times when people were like, "I found the Fur Bible. That was so great." So finally I decided I would listen to it again and I thought, "This is quite good." It's very different from everything I've done and it's heavy metal or something. It's super dark and the production's really great. The guitars sound really great. And the voice doesn't sound at all as bad as I thought it did. I don't think it's the greatest job but I think its quite good. It's quite expressive. So maybe some things are better in hindsight and you shouldn't judge yourself so harshly in the present.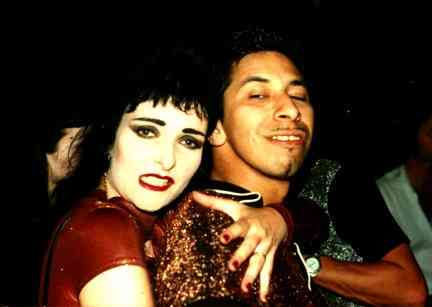 We did some club touring which was usually quite terrible and no one liked it because everyone wanted the Gun Club to come on stage and we came on with our dark gothic noise. We had been friends with Siouxsie for a long time . I had actually met Siouxsie and the Banshees, the whole band, when I was in The Cramps and we did some shows together and I befriended them. Billy Holston, who was their assistant, right-hand man - he's the guy who made the Fur Bible cover, the artwork on that – he was a champion of our band. And he suggested it to them. And The Gun Club had played some shows with The Banshees as well and they were big fans of The Gun Club. And so they asked us to go on a tour with them and of course we said yes. And that was good because they were really popular at the time. We played at the Royal Albert Hall, where Bob Dylan played, and we played at big theaters everywhere in England. I guess we went over OK. I don't remember.
It was really short-lived I think. It was all within a year when this stuff happened. We just made the one EP and called it off. We just decided "this is not happenening at all." We played in New York – we didn't play in America – with our one diabolical show at The Pyramid.

Anital Lane and Becoming a Bad Seed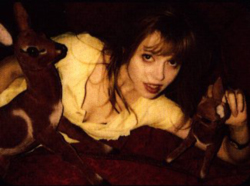 The one good thing that really came out of The Fur Bible was that I met Anita Lane. Anita Lane at the time was Nick Cave's girlfriend. I remember we played with Sonic Youth at a university in London. And we played and we came off. And this friend of ours was our manager. And we came off and we'd actually done quite a good show and went over really well with the Sonic Youth audience. And we came off stage and suddenly the manger started, "That was a terrible show... blah blah blah... and there was the press here and blah blah blah..." and all of this stuff that you do not want to hear when you're getting off stage after the audience is applauding you. So before I got up and smacked her, I obviously was staring at her like, "You're gonna get it in a few minutes if I can get up." Then someone took my hand, led me away down a corridoor, and put me in this room and said, "You don't listen to her. You just sit hear for a while." And they left and I was like, "Who was that angel from heaven?" And that was Anita Lane and I later found out – "That's Nick Cave's girlfriend." And that was maybe one of the links into my Bad Seed-dom. Because it was shortly after that that I was asked to join the Bad Seeds.
The Fur Bible had petered out. Actually it imploded. I left the band because I was like, "This is not happening. It's not where I want to be. It's not where I'm going." And everyone was in agreement. So I was left there in London to figure out what my next move is. I think I moved around a lot, I went to Amsterdam for a while, befriended these two sisters who lived on a houseboat in Chelsea which became a kind of party central for bands like Nick Cave and the Bad Seeds and Einsturzende Neubauten and Barry Adamson, who was in the Bad Seeds at the time. I just befriended this group of people. This is who I fell in with. I had met Mick Harvey and Katy (Beale) and Anita and I knew Nick a little bit because Nick had been in Los Angeles and I'd met him there. We hung out with likewise people like Jim Thirwell, through Lydia Lunch and Jim Thirwell who were friends of mine living in London at the time, and Marc Almond from Soft Cell. I'd known Blixa from Neubauten being in London through mutual friends. Actually I had met Blixa in Los Angeles. They (Einsturzende Neubauten) played in the Mojave dessert. And we did a gig in the Mojave dessert. They used to really travel with no instruments. They would just find their instruments. And Blixa didn't travel with a guitar. So I loaned him my guitar. And either he had no socks or some really smelly socks. So I gave him a bunch of socks. And that was the start of our friendship. Just different people – we were all a little community of people.
And I think soon after the Fur Bible ended Mick asked me if I would play in the Bad Seeds. Hey were having a tour coming up and Barry wasn't going to go. And Mick said he was going to play bass and they were looking for a second guitar player and I'd probably be a good person to do that. I was in the mold of their other guitar players. I accepted their invitation and went to Berlin and started rehearsing with them. I'd been living in London and my experience there wasn't so great after the Fur Bible. As a place to live – it was a very pop culture town. This whole thing with everything's the new thing – this week's flavor of the month, flavor of the year. And all the pop shows and pop magazines. It was really not what I was into. So the Bad Seeds asked me to play and I was definitely cut out for that and it was definitely a project that spoke to me and I admired their records and I really liked their music so I was really glad that they asked me.
Continue to Kid Congo Powers, Issue 2, Part 7 - "City of Refuge":
Berlin and Nick Cave and the Bad Seeds (1986 - 1990)