A Biographical Introduction to Kid Congo Powers Pt. I
If you grew up listening to underground rock in the 1980s, you no doubt noticed the name Kid Congo Powers popping up on a number of your records. My curiosity about the enigmatic guitarist from The Cramps, The Gun Club, and Nick Cave and the Bad Seeds records was never fully satiated until a few days ago when Kid was kind enough to sit down and tell me his story. When I decided to start a webzine that would give underground artists an opportunity to explain their personal histories, music, and ideas, Kid was the first name on my list. I was not prepared for Kid's generosity on the evenings of October 19 and 20, 2005. As Powers possesses an incredible memory, a great sense of humor, a rich full-bodied voice, and an innate storytelling ability, my job was a piece of cake. Instead of interviewing Kid I let him select a format for the discussion, set up a large-diaphragm condenser mic, and let him go.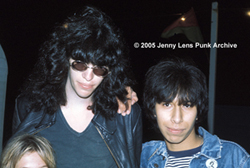 For a boyish forty-five year old, Kid has participated in an astoundingly wide expanse of subcultural and music history. In 1976 - the dawn of the punk era, at age sixteen, when he was still went by his given name Brian Tristan, je started a Ramones fan club. There's a picture of teenage Kid with Joey Ramone and a link to a couple of his newsletters for anyone that doesn't believe him. He went to London in 1977 to check out how the Brits were appropriating the new American style and came home with a punk haircut. In 1978 he found himself in New York - taking up brief residence with Lydia Lunch and Bradley Field of Teenage Jesus and the Jerks during the height of the tightly knit short-lived No Wave movement. In addition to witnessing one of the only two shows by Lunch and Field's Beirut Slump, he saw The Contortions, the Dead Boys, and even the Cramps. Back in California sharing a house with the seminal LA art punk band The Screamers, Brian Tristan was on the ground floor of LA's punk scene. Here he also mentions the Bags, the Germs, X, the Circle Jerks, and a few more from that scene .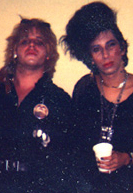 Brian Tristan then met Jeffrey Lee Pierce at a Pere Ubu show in 1979. The two hit it off and Pierce immediately insisted that they start a band together. Though Tristan explained that he couldn't be in the band because he didn't play and instrument or sing, Pierce persisted - teaching Tristan a couple of tricks and letting him take it from there. The band that they created, Creeping Ritual, soon took on The Bags' rhythm section and changed their name to The Gun Club. The Circle Jerks' Keith Morris (also the first Black Flag singer) traded Pierce the name in exchange for the title track of the Circle Jerks' first album, Group Sex. After a year of co-writing and developing a number of songs that wound up on Fire of Love (including the original lyrics to the one The White Stripes cover, "For the Love of Ivy"), and gigging exclusively at Chinese restaurants, Tristan left The Gun Club because (for the love of Poison Ivy Rorschach) he had just accepted an invitation to play guitar with his favorite underground band, The Cramps.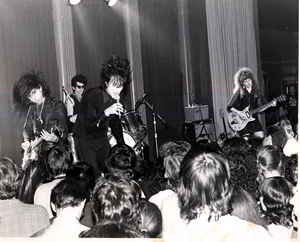 With some new duds, a new hair-du, and a new tattoo of a shrunken head (a picture of which graces these pages), The Cramps makeover was not complete until Tristan was rechristened. Brian Tristan just didn't fit with names like Lux Interior, Poison Ivy Rorschach, and Nick Knocks (though Bryan Gregory managed). After refusing the name that Tristan came up with ("Brian Gris Gris" – he was a clever kid), Lux and Ivy lifted "Congo Powers" from a Congo-themed Santeria candle that promised to contain mysterious "Congo powers." Tristan came up with the "Kid" part as he thought it sounded "cool" - like the name of a boxer or a pirate. And so Kid Congo Powers was born.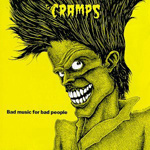 At the height of their artistry and popularity, the Kid Congo Powers-era Cramps (1981 – 1984) tirelessly toured the world. In addition they recorded classics like Psychedelic Jungle, "New Kind of Kick," "Save It," and Hasil Adkins' "She Said" (all of which later showed up on the compilation Bad Music for Bad People), and, live at New York's historic Peppermint Lounge, Smell of Female. Kid discusses his time with these bands, their performances and recordings, and the development of his guitar style during these years. Kid also scanned us a couple of pages from the scrapbook he kept during his first months with the band – the most frightening of which contains a Polaroid from Halloween night 1981 – featuring Kid and Jeffrey Lee in drag. Sorry Kid, but Jeffrey makes a much better girl.
Someone please stop me before this thing turns into a scandal sheet…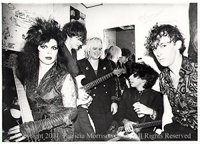 After quitting The Cramps, Kid initiated his pattern of returning to The Gun Club. This time half of the band didn't show up for an Australian tour. Kid filled in and had so much fun that he remained in the band. In addition to the account you find here, you can listen to Kid talk about the tour on "Australian Tour Journal" from Rhino's double LP Neighborhood Rhythms (1984). That same year Kid also appeared as the guitarist on Chris D. and the Divine Horsemen's "Hell's Belle" from Time Stands Still. Along with Patricia Morrison of the Bags, Sisters of Mercy, the Damned, etc., and ex-Bags drummer Terry Graham, who left and reunited with The Gun Club at least as many times as Kid, the band created 1984's eclectic masterpiece The Las Vegas Story. In addition to explaining the album's Gershwin and Pharaoh Sanders covers, here Kid talks about a studio experience that included Stevie Nicks, Julio Iglesias' piano player, and the sons of Andy Williams. With the success of The Las Vegas Story, The Gun Club then toured non-stop for almost a year before they self-destructed in Europe.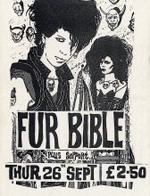 Though the entire band wound up living in London, Jeffrey Lee Pierce went solo while Kid, Morrison, and pickup drummer Desperate stuck together for a couple of projects. The first was backing the legendary Legendary Stardust Cowboy. The second, also that year, was a project called The Fur Bible – for which the Beasts of Bourbon's charismatic crooner Tex Perkins came all the way from Australia to join. When Perkins and the band split due to artistic differences, Siouxsie and the Banshee's Murray Mitchell joined as a second guitarist and Kid stepped up to the mic for the first time in his career. Fur Bible recorded an EP for New Rose with Clint Ruin (AKA Foetus, Jim Thirwell, etc.) and toured with the Banshees. After the band fell apart, Kid was more than happy to leave London for Berlin to join one of the best bands in the world, Nick Cave and the Bad Seeds…
I regret to inform you that we must now take an intermission from the fascinating saga of Kid Congo Powers. You must wait until next week to learn about Kid's globetrotting and recording with the Bad Seeds, The Gun Club reunion, Die Haut, Barry Adamson, Kid Congo Powers solo, Congo Norvell, Diamanda Galas, Jonathan Fire*Eater, Mark Eitzel, Make-Up, Knoxville Girls, Botanica, The Angels of Light, The Vanity Set, Abby Travis, Rob K, Julee Cruise, Little Annie, Kid and Khan, Kid Congo and the Pink Monkey Birds, and more.
I could go on forever but I don't want to spoil it for you. For now you can occupy yourself with the hours of recorded and transcribed oral history that follows.
continue to the table of contents for Kid Congo Powers Part I
skip ahead to the biographical introduction to Kid Congo Powers Part II (next issue)

home | table of contents |feature | record reviews | live shows | links | archive | contact | mailing list
© New York Night Train , 2005