"Rock And Roll High School": Kid Grows Up (1960 – 1979)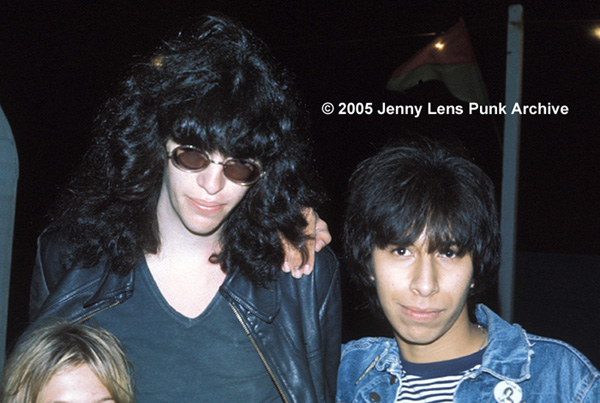 Joey Ramone with the sixteen-year-old Ramones fan-club president.
I was born in Los Angeles California in a suburb called La Puente. That is next to the city of industry for those of you who need clarification - off the 605 freeway. And so I grew up about twenty miles east of downtown Los Angeles. I guess effectively that is East LA - although it is beyond what is known as that. Mainly Mexican immigrant suburb - Chicano if you will. It was a new suburban place when my parents moved there from downtown Los Angeles. And I was the last of three children - two older sisters. So I grew up amongst the Mattel factory and the Kearns tomato and jam factories. You could see two different drive in movies from the roof of my house. So I was always well informed in the cinema - even though I didn't have the sound. My parents are both second generation Mexican American and they grew up in Los Angeles in the 40's and 50's of first generation Mexican parents. So, my great grandparents are from Mexico and Arizona - Mexico City, that is, and the ones from Arizona are Apache.
So, I grew up, went to school, and was fortunate to have rock-n-rolly neighbors. I had a garage band that played in the garage when I was in junior high like a few doors down from me and I really loved that because I grew up listening to music. My parents had a really large family, so the weekends were all about parties and all about family gatherings and all of my uncles played guitar and there was a lot of singing and Mexican music - Ranchero style music. And that was the thing, it was party music weekend, all weekend long and all the kids would get together and hang out together and defy our parents into doing trickster things.
I had two older sisters who were very into music as well. And so I grew up to hearing everything from the Beatles and The Rolling Stones from a very small child to things in the neighborhood. A lot of the low-rider music, doo wop, oldies, a lot of soul and funk music, a lot of Santana, Jimi Hendrix, and Black Sabbath. Those were the sounds that drifted in and out of my head as I was growing up. Then I befriended my garage band friends down the street – they were called "Hogwild". And they did different kinds of cover versions. They rocked out some and they were sometimes a wedding band…and so they would do like, Chicago cover versions and things like that. But they also branched out into things like David Bowie and they had interests in things like the first I'd ever heard of Mott the Hoople and different 70's British glam era songs.
And there was another neighbor of mine who was an artist - an underground kind of painter and cartoonist. They were like my older sisters age but somehow I befriended them and they introduced me to more underground things like comics and R. Crum comics and Frank Zappa and the Mothers of Invention. And that was kind of my growing up – that was my introduction to the underground. They were the first ones to take me to a John Waters movie - to see Pink Flamingos when it came out. I must have been really young - I don't know how I got in! So, early on, I was no stranger to things underground and that's what interested me. And from that, I began to be a big magazine hound – a big music magazine hound. I would read Creem magazine and Rock Scene and different things and there I found out about New York City rock. And so, from these magazines I just saw a lifestyle and people and thought "God, this is where I really should be" – and I was probably was only like 13 or 14 years old and I thought "I really have to move to NYC - that's where its all happening and that's where all im interested in is." I was reading about Lou Reed and about the glam thing, Iggy Pop hanging out at Max's Kansas city with Lou Reed and David Bowie. And from that you learned about the New York Dolls and from that you learned about the emerging punk scene and reading about the first things about CBGB's and about Television and Patti Smith playing there. And I was very intrigued. Oh, and The Ramones...
And then by the time I was already an old bag in 1975, Patti Smith's album came out when I was fifteen years old and I bought the Horses album and I really flipped out, like "this is kind of MY sound" and MY thing… and everything ive dreamed about because I've been reading about it for so long that I kind of exactly what I envisioned it - but even better. And I was a rock fan and I was fifteen and I started going to concerts a lot. And then The Ramones album came out and then I REALLY flipped out – and I was never quite the same.
I had already gone to concerts and seen the New York Dolls a bunch of times or whoever came through, like the Sensational Alex Harvey Band and just everyone! That was kind of my teenage lineage. And I was getting older and going out more and started to get drunk and hang out more - and started making friends with the other people who were also fans of this music. And I was hanging around a lot with these friends of mine, Trudy, and these people who ran a fanzine called Back Door Man, Fast Freddy, Don Waller and TD Fay. And I was already really into the underground and really influenced by these people and they had lot of a "pre-punk" - kind of a hard view of rock music, a really raw view and juvenile delinquency, and different interesting things to teenagers. There was really no big scene to support it at the time before the Sex Pistols or whatever happened - "the punk explosion." This was the first place I heard about ads to mail away for Pere Ubu's "30 seconds over Tokyo" or the first Television single of "Little Johnny Jewel" on Ork. That's where I learned about all this stuff. And then the big punk explosion - the post- Ramones English thing happened. There started to be local groups and a lot of concerts. And it turned into something that became like a whole big scene.
So I became such a big fan, I really became hysterical when The Ramones album came out. Because that, even more than anything, really was something different. I had heard the Stooges, The Velvet Underground…The New York Dolls even. But The Ramones were faster, funnier, and just the energy was incredible to me as a teenage kid. And I went to see them play a lot of times and was so enamored with them that I started a fan club for them, which was basically a stapled together three-page newsletter. I went to the shows and met people and took peoples addresses and had them send me a self addressed stamped envelope. And I remembered this older kind of hippy-ish school teacher-type guy who let me use his P.O. Box. It was a weird strange community, before punk was kind of cool or trendy. All these desperate people - that photographer Jenny Lens– strange people looking for something new... kids… like a strange mad magazine picture of people. It was about that very time there were already bands and, like I said before, fanzines like The Back Door Man that were raw rock and roll style, Detroit style rock – the pre-punk thing. Bands like The Motels who became something different at first - they were a bit much more raw… bands like The Dogs and The Imperial Dogs. There were two Dogs… I think that was Don Waller's band. And they were hard edge… kind of like Stooges-y, MC5 sort of thing. The New York influence was a newer thing than that, a newer attitude… a newer feeling. It was jet propelled.
So the English punk invasion happened - the Sex Pistols and The Clash. Actually the first bands that came to the Los Angeles area- I think were The Dammed were the very first. I mean, we had Blondie and like a lot of American bands… like Devo and Pere Ubu and a bunch of other people who played –and Television. But then a lot of the English bands started coming… like The Dammed and The Jam - I think were the first ones and everyone turned out in force and threw parties and it was crazy, crazy, crazy. This really influenced a lot of the bands: The Germs for sure, The Bags, The Screamers - those were the main first bands… The Zeros, I'm sure there are more… And they just kind of came out of nowhere. It all came out of - who knows where they came from. And they started as support to these bands, and a kind of scene arose around that like The Mask Club - which was a Hollywood basement. I think it was a rehearsal studio space. And this guy Brendan Mullen took it over and started hosting punk shows and then a million more band started cropping up - some bad some good - but it was a scene. It created a complete scene of people. First it was the hipster glam people leftovers mixed with the hard rock fans and then it became more suburban. More kids started coming out of the woodwork. And things like Slash magazine, Lobotomy magazine. The San Francisco scene was also, although rivals, happening as well. And then there was also things coming out of the art schools, like everywhere.
I was a really big fan of The Screamers and, since I had fanzine making skills, I made their newsletter - I was drafted to make their newsletter. I made a room inside a big walk-in closet in their house and had a typewriter and diligently typed out my fanzine newsletters. I was kind of the Rona Barrett of the punk scene at the time. I new all the inside dish on everything. The Screamers were truly a great band that there's actually very little documentation of. But they were a huge live band and big influence on Los Angeles, and for nothing else they looked amazing and had an original approach - which was to not have guitars - before Chicks on Speed. And they were electroshock treatment and showmen and really great and wrote great songs and were like an explosion that went into every area. It went from dorky suburban kids to street people to bad kids to art students to the very chic Fiorucci fashion crowd. It was a crazy explosion that happened. So around this time that I was offered my walk-in closet space at The Screamers house for a nominal fee. So I moved in with them - which was about probably 1977.
I was in high school. I was a smart kid, and I was really bored and got really good grades. So I took a GED test and got out early. My parents sponsored me, as a graduation present, a trip with the school to Europe. And one of the stops was London. It was London, Paris, Switzerland, and Rome. I was like "I'll finish school if you give me this trip!" And they were like, "Okay, Okay…Okay!" So, I went on this trip and of course I split off from the school team and I had like one friend, this girl, and we split off and just went to concerts the whole time and sought out punk rock record stores in Paris and London. I went to this club, "The Vortex Club" and I saw The Slits play and different bands. And The Clash were hanging out and Siouxee and it was all very very very exciting. I was like 17 - not even 18 yet. And I got a punk rock haircut and came back to NY at the time and saw The Dead Boys and The Heartbreakers and went to CBGB's and went back to LA quite informed with what was going on.
And it was about that time that things started getting bigger and bigger. There were concerts every night to go to. There was The Mask to hang out at I think most nights. Some nights it would be empty some nights it would be full. It kind of became a very coherent rock scene going on there, a lot of craziness, a lot of experimentation… a lot of drugs and sexual things. A lot of bands - some doing a lot of "off the wall" stuff, stuff that was stupid and retarded, and some stuff that was brilliant and great. The Bags were a really good band - very traditional punk. The girl singer, this girl, Alice Bag, was really beautiful and totally fire. She was totally aggressive and fiery and they were really great and a popular band. That was the start of all of that. A very exciting time.
Then I went back to New York. I decided I had to go investigate New York some more. A group of LA punks got Greyhound bus tickets and some drugs and took a bus trip. I think there were four of us: Me, Trudy, Helen Killer, and my friend Rod Donohue and Mary Rat - a big Richard hell fan. She was going to New York to marry Richard Hell.
So we went to New York and had already met Bradley Field from Teenage Jesus and Christian Hoffman. The Mumps had been in New York and stayed there to record and play a lot and were a big hit in LA. And they very wrongly invited me to come stay with them - not thinking probably that I would actually show up. But then I called them and said, "I'm coming to NY can I stay with you?" And they said "yes." And I went and stayed with Bradley - and his roommate Lydia Lunch who I didn't know at the time. And they were in their band Teenage Jesus. Lydia had an offshoot band called Beirut Slump who made one single and very few live performances… harrowing live performances, with the lead singer Bobby Berkowitz. And (I) stayed there for a good month and, for the first three weeks, me and Lydia didn't say a word to each other. Finally we began talking and she said, "I like you a lot…because you are such a worse crab than I am." And that was the start with my relationship with Lydia - which goes on to this day.
And I just remember that whole time the Lower East Side was a completely different place. It look looked like a bomb had hit it. There were many an abandoned buildings, rubble in lots everywhere, prostitutes at my favorite place The Restaurant Fried Chicken. Lots of hookers hanging out there at night and they liked the punk rock kids because the girls dressed like hookers "Ooh, you've got the blue hair!" And that's when I was really introduced to The Cramps, and I saw The Contortions, ... Teenage Jesus. And I made friends with a lot of the kids that were around - a lot of bands you don't hear about like Little Annie and the Asexuals and The Student Teachers and it was a very fertile time.
I ended up going to Los Angeles, and that's when I actually met Jeffrey Lee Pierce.
Continue to Kid Congo Oral History, Pt 2, The Gun Club 1