FEATURE
KID CONGO POWERS, Pt 1: 1981-1986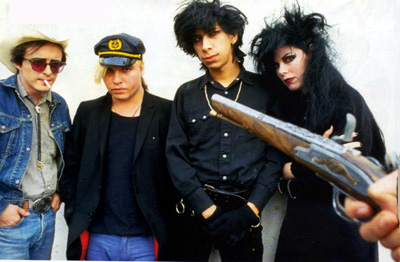 An Introduction to Kid Congo Powers Pt 1
Kid Congo Powers Oral History Pt 1
Here you will find both MP3s and text transcriptions of recordings made on October 19 and 20, 2005. Kid Congo Powers discusses his life and career up to 1986. He provides an in-depth look into his pre-Gun Club days, the first two incarnations of The Gun Club, his years in The Cramps, The Gun Club's Las Vegas Story era, backing up the Legendary Stardust Cowboy, his London project with Patricia Morrison, The Fur Bible, and his invitation to join Nick Cave and the Bad Seeds
Kid Congo Powers' Cramps Scrapbook
Kid was kind enough to scan a few pages out of the scrapbook he kept during his first year in the Cramps. Amazing punk collages of Polaroids, clippings, and notations.
Creem Magazine 1984 Gun Club Article
A Creem feature from The Gun Club's The Las Vegas Story era.
Kid Congo Powers' Discography (1981 – 1985)
The first part of our overview of Kid Congo Powers' prolific body of recorded work. You will find reviews of The Cramps, The Gun Club, Chris D. and the Divine Horsemen, and The Fur Bible.

© New York Night Train , 2005